25 Minus Minutes is a mini-album by Hardy Fox, recorded a week before his death in October 2018, and released posthumously on February 4th 2019 on Klanggalerie.
It is the fifth instalment in the TOOK series of limited edition releases, and the first posthumous release of material by Fox. It was followed in 2020 by Killing Time.
History
Recorded by Hardy Fox only one week prior to his death from brain cancer on October 30th 2018, 25 Minus Minutes was among several unreleased recordings given to Walter Robotka of Klanggalerie prior to Fox's passing.
25 Minus Minutes is described in the Klanggalerie press release as "the most personal music ever created, a kind of diary, a stream of consciousness with fractured parts, with emotional and contextual shifts and most intimate comments".
The piece of music at the end of the suite was featured as a standalone track on the next posthumous Fox release, Killing Time, under the title "Traveling Music".
Cover art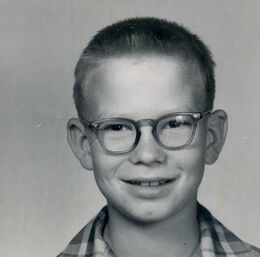 The album cover features a photo of Hardy Fox as a young boy. This photo was one of several pictures of Fox as a child which were given to him by his sister Diane after he was diagnosed with terminal cancer, and published on his official website shortly thereafter.
A variant of the cover art which is simply a cropped version of the photo accompanied the original announcement, but was changed for the final release to a variant with the young Fox superimposed on another image with his name printed vertically to the right.
Track listing
25 Minus Minutes

(24:47)
See also
External links and references