This article is about the 1971 demo album.
You may be looking for the

song

of the same name.

Baby Sex (officially released as B.S.) is a demo tape recorded in 1971 by Residents, Uninc.. It is the final demo known to have been recorded by the group before they officially became The Residents in 1974.
Though much of its contents were officially released over a number of years and across various compilation albums, the full tape had never been officially released by the group in its entirety until its release as a pREServed limited edition LP on Record Store Day in April 2019.
B.S. finally became widely available in November 2019, with its inclusion in the pREServed compilation A Nickle If Your Dick's This Big.
History
Consisting of various studio recordings and excerpts from the group's earliest known live performances between August and November of 1971, B.S. was compiled by the group (now crediting themselves as Residents, Uninc.) in December of that year. Two mixes of the tape were created, with the second one being preferred (and ultimately released).
The tape features contributions from the group's mentor N. Senada, who had produced their previous demo tape The Warner Brothers Album. He is heard on Hallowed Be Thy Wean, alongside Peggy Honeydew. The tape marks the first known recorded appearance of guitarist/violinist Philip "Snakefinger" Lithman, who had been introduced to the group through Honeydew. The tape features no credits beyond writing on 'King Kong' and a producer credit to Residents Uninc.
Like their previous demo tape, The W***** B*** Album, B.S. appears to have been conceived with the intent of provoking a response from Warner Bros. Records executive Hal Halverstadt,[1] who had only recently inadvertently named the group by returning the rejected demo addressed to "Residents, 167½ 17th Avenue, San Mateo".
Contents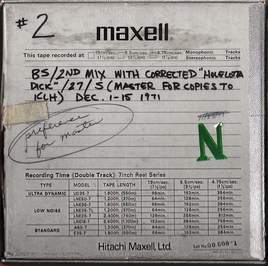 Further developing the group's predilection for subverting popular music, B.S. includes parodies of Tim Buckley ("We Stole This Riff" is derived from "Down By The Borderline" from the 1970 album Starsailor) and Led Zeppelin ("Holelottadick"), and also a cover of "King Kong" by Frank Zappa and the Mothers of Invention featuring Snakefinger on guitar.
The demo also contains a performance of a piece apparently composed by Snakefinger alongside the group's mentor, Bavarian composer The Mysterious N. Senada, entitled "Cantaten to der Dyin Prunen".
"The Fourth Crucifixion" contains an excerpt from a radio interview with Snakefinger and Senada. The interview was also included in the UWEB compilation, Daydream B-Liver. A different piece by the same title can be heard on the group's previous demo The W***** B*** Album.
Senada appears on "Kamakazi Lady"; a performance of this piece (as well as "Eloise") would later be filmed for inclusion in the group's unfinished film project Vileness Fats. "Eloise" was also re-recorded in 1984 for Whatever Happened To Vileness Fats?, and again in 2001 for 'Icky Flix'. These two tracks also feature on the set lists of most of the early performances of the group between 1971 and 1976, as they provided the group an easily-performed distraction when members of the band were experiencing technical difficulties.
"For Doorknob" features night-club singer Peggy Honeydew. This track was performed at the group's Boarding House performance earlier in 1971, but a different performance (possibly recorded at home) features on B.S. as part of the closing collage experiment "Hallowed Be Thy Wean 1971".
Cover art
B.S. is notorious for the unprintable cover art which accompanied the original demo, featuring a low-resolution image of a grown woman performing fellatio on a baby, which had been blown up from an advertisement for a Danish porn magazine which the group had received in the mail[1].
The group later explained that their use of this disturbing graphic was modelled after the cover art of the album Randy Newman Live, at the time a recent release on Warner Bros. Records subsidiary Reprise. Randy Newman Live featured a similarly low-resolution image of Newman on its front cover - the track listing included with the tape also mirrors the design of the back cover of this album.
The image would also later be printed on a very limited run of t-shirts - rarely seen, for obvious reasons, though some remain in the hands of collectors. The tape's title track consists of a dramatic reading of a puerile story seemingly inspired by the image, set to a light organ musical backing.
Like The W***** B*** Album before it, B.S. was submitted after its completion to Warner Bros. Records executive Hal Halverstadt, whose written response to the tape (and the newly renamed Residents Uninc.) reads:
"I hate to tell you this, but Baby Sex did not (repeat, did not) set Burbank on its ear, even though the tape was widely circulated through the stuccoed halls of good old WB. As to the art, one of the girls here who still wears hot pants had the audacity to infer that you guys are sickos! So keep the good work coming. There are enough heavy breathers here in Burbank to make it worth the postage."
Later availability
The W***** B*** Album and B.S. tapes were both broadcast to the public in their entirety in 1977 by the group's friend, Bill Reinhardt on KBOO-FM in Portland, Oregon, during a Residents-themed radio festival. Most versions of these two tapes that are available originate from home recordings of this broadcast, although higher quality copies from an earlier generation copy became available in 2015 as part of a series of bootleg CD-Rs.
It has been rumored that these seemingly earlier generation versions were copied directly from tapes which were stolen from The Cryptic Corporation archives by a former associate and later made available for profit.[2] As with their other early recordings, The Residents and The Cryptic Corporation long did not consider B.S. to be part of its official discography, and were displeased by the availability of their early recordings as bootlegs.
Despite this, excerpts from B.S. did become officially available throughout the group's career. "King Kong" and "Kamakazi Lady" would be the first two excerpts from the group's early demos to see official release, first in 1977 on the group's promotional "radio special", and then ("Kamakazi Lady" only) in 1983 on the Residue of The Residents.
An excerpt of "Cantaten to der Dyin Prunen" was featured on the UWEB Snakefinger tribute album, Philip Charles Lithman a.k.a. Snakefinger, and the group created an "orchestral remix" of the track in 1988 which still has not seen official release (and which was thought by Hardy Fox to be lost to time). It is also referenced in "You Yesyesyes" from Fingerprince.
Additional mixes and excerpts from the demo were included on the Daydream B-Liver, ERA B474 and The Delta Nudes' Greatest Hiss compilations. By 2016, most of the contents of B.S. had been officially released in a piecemeal fashion through various compilation albums, apart from the first three tracks and the complete original edits of "Cantaten to der Dyin Prunen" and "Hallowed Be Thy Wean".
Release
B.S. (pREServed vinyl edition, 2019)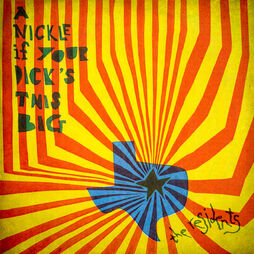 B.S. was finally officially released in its entirety (featuring the group's preferred second mix of the tape) in a limited vinyl edition on April 13, 2019, as a special Record Store Day release and part of the group's expansive pREServed reissue campaign, following the 2018 limited edition release of The W***** B*** Album. Like all releases in the pREServed series, B.S. was remastered from the original master tapes by engineer Scott Colburn.
The group claim in the March 2019 announcement of the tape's release that they had completely forgotten about its existence, "until the master tape fell from a shelf in the archive onto the singing Resident's head. As a consequence, he now has no memory of the recording, but we thought you might like to hear it anyway".[3]
B.S. was released on CD for the first time alongside The W***** B*** Album in late 2019 as part of the two disc compilation A Nickle If Your Dick's This Big. This compilation also includes the complete Boarding House and Chris' Party recordings, and a "concentrate" edit of the Party of '71 recording.
Track listing
All tracks composed by Residents, Uninc. unless otherwise noted.
Baby Sex (1971)
B.S. pREServed edition (2019)
The pREServed limited vinyl edition released on Record Store Day 2019 includes The Residents' preferred second mix of B.S., which was completed in December 1971 and submitted to Hal Halverstadt of Warner Bros. Records.
Side A
We Stole This Riff (

Buckley

) (1:50)
Holelottadick (

Bonham/Dixon/Jones/Page/Plant

) (2:20)

B.S.

(1:03)

Deepsea Diver Song

(4:05)
Cantaten To Der Dyin Prunen (Senada) (5:50)
Side B
Intro Tape / Somethin' Devilish

(2:44)

N. Senada Tribute

(1:50)

The Fourth Crucifixion

(3:18)

James Dean's Death

(0:21)
Very Long Suite (14:25)

incorporating "

Pink Lemonade

", "

Sandman

", "

Eat Me Mother

", a selection of untitled instrumentals, "

Bumble Bee

", "Eloise", Snakefinger's wedding, "Kamikaze Lady", Miss Peggy Honeydew and "D Is For Doorknob", a number of announcements,

The Three Most Important Things In The Whole Wide World

and more.
Liner notes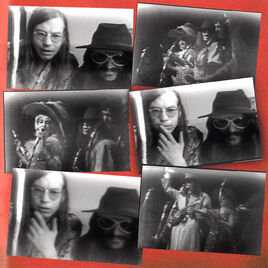 pREServed limited vinyl edition (2019)
This album was recorded by the loose collective of creatives, post-hippies, dreamers and friends who later become known as The Residents between August and November 1971. It was compiled into vinyl-ready, side-long suites in December that year, and a tape was sent immediately to the group's only known supporter in the music industry at that time, Hal Halverstadt at Warner Bros. Records Inc. But alas, despite being packaged in artwork modeled on a Randy Newman live album recently issued by the label, Hal and co. passed again, and superstardom and their wildest dreams continued to elude everybody involved.
Ever eager to move forwards, the group discarded the tapes and forgot all about their contents. And so they lay neglected in a San Francisco basement for over forty-five years (the tapes, not the group) until recent archival excavations by The Residents produced two dusty reels. Having listened and pondered, several members of the group deny having been involved in the recording of this material at all, whilst others insist they couldn't have played it so well even if they'd wanted to. They were, however, all in agreement that the tapes' existence could not be denied, and that it might be interesting to release this music at last, if only to see if anybody else out there could recall recording it. Suggestions and enquiries to the usual addresses please.
Nb: Of note is that two mixes of this entire recording exist, The Residents preferring (and sending to Hal) mix #2, completed in December 18th 1971.
Credits
pREServed limited vinyl edition (2019)
Additional Credits
See also
Buy Or Die!
Listen online
External links and references