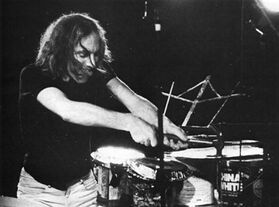 Chris Cutler (born 4 January 1947) is an English percussionist, composer, lyricist and music theorist. Cutler's career spans over four decades and he still performs actively throughout the world. Best known for his work with avant-rock bands Henry Cow and Art Bears, Cutler created and runs the British independent record label Recommended Records and is the editor of its sound-magazine, RēR Quarterly.
The Residents took refuge with Cutler in England in 1978 during a disagreement with The Cryptic Corporation and a loss in confidence regarding the direction they were moving in with the Eskimo album. They left the master tapes for Eskimo in Cutler's care, advising that they needed to "wash their ears out" before they could continue working on it.
Cutler would provide musical contributions to Eskimo, as well as The Commercial Album (with Fred Frith).
In 2004, Cutler was interviewed for Theory of Obscurity: A Film About The Residents.
See also
Edit
External links
Edit