Diskomo is a 1980 EP by The Residents. Designed as a "disco" version of musical themes from their acclaimed Eskimo album, the EP also contains Goosebump, a sequence of tracks recorded by the band with Snakefinger using toy instruments.
History
After Eskimo was released, The Residents responded to the furor of fuss and praise it generated by taking various bits out of the album and re-working them to a disco parody of the original. The band then took over San Francisco's largest disco hall and held a release party featuring "weird" and "new" music.
Similar to "Santa Dog", The Residents have revisited and re-recorded "Diskomo" a number of times since the original release, including in 1992 and 2000.
Goosebump
Goosebump is a collection of Mother Goose rhymes set to music with all of the "original sinister overtones" left in place. The Residents had long planned to produce a children's record (of sorts) and teamed up with their long-time collaborator Snakefinger to record the songs using only musical instruments bought at Toys-R-Us. Although children's toys were used to produce the music, The Residents' grown-up toys were used afterwards in the mixing of the recording.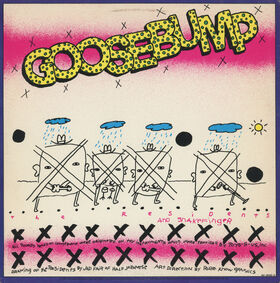 Release
Diskomo/Goosebump was released in April of 1980 as a 12" EP. "Diskomo" was released without the Goosebump tracks on a CD EP in 1990 by Torso; this version instead featured "Whoopy Snorp" "Saint Nix" and "Diskomo 87" as B-sides. The original Diskomo/Goosebump EP was first released on CD in 1997.
Just as the Duck Stab EP became the Duck Stab!/Buster & Glen LP, an attempt was been made to expand the Diskomo EP into an album in 2000 with the release of the Diskomo 2000 CD, which added 10 minutes of newly-recorded content.
In 2017 Diskomo was re-released as a vinyl LP, featuring a re-arranged version of the Diskomo 2000 track listing.
Track listing
All tracks composed by The Residents.
Side One: Diskomo (8:00)
Diskomo (8:00)
Side Two: Goosebump (14:27)
Disaster

(3:48)

Plants

(3:14)

Farmers

(5:27)

Twinkle

(1:58)
2017 Album Version Track Listing
Diskomo (8:00)
Diskomo 2000 (4:50)
Diskomo 1992 (3:30)
Twinkle 2000 (2:35)

Disaster

(3:48)

Plants

(3:14)

Farmers

(5:27)

Twinkle

(1:58)
Liner notes
Goosebump (1987 Duck Stab! ESD CD reissue)
Somewhere in the giant master-plan of The Residents, there was an idea for a children's record... a re-recording of Mother Goose with the original sinister overtones left intact. Since most of the popular rhymes were of English origin, The Residents contacted the only Englishman they knew, Snakefinger, to advise them on the meaning of these obscure and absurd lyrics. Snakefinger, with his usual excitement for unusual projects, threw himself into the recordings to such a degree that eventually his name was added to the Goosebump cover as co-conspirator.
All the sounds are originated using only children's toy instruments from Toys-R-Us... although adult studio toys are employed to drastically change and enhance them.
Release History
Credits
See also
External links and references