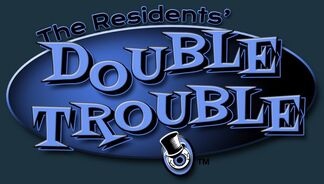 Double Trouble is a film project by The Residents, first announced in November 2016 and currently in the "early development" phase of production.
If realized as planned, Double Trouble will feature footage from the abandoned Vileness Fats project, and will incorporate new footage to act as a semi-sequel to the unfinished film.
Six or seven years into the future, following the death of Randy Rose, the lead singer of The Residents, his son Randy Junior comes across the footage for the band's unfinished film Vileness Fats in a foot locker in his mother's basement.
Watching the footage, Junior becomes "completely obsessed" and "further and further sucked into the world of Vileness Fats", he starts to find that his life is beginning to unravel in a way parallel to the film's protagonist Steve.
Production
Edit
The film was announced in autumn 2016 with a trailer directed by Don Hardy and starring Randy Rose, entitled "Junior's Double Trouble Nightmare". In this trailer Randy describes the plot of the new project.
A second trailer, depicting scenes which are presumably from the upcoming film, followed in September 2017.
External links and references
Edit