On September 17th 2017, The Residents released a video entitled "Double Trouble Trailer" on YouTube, showcasing short scenes from their upcoming feature film project Double Trouble (which was later retitled Triple Trouble during production in 2020).
The trailer was the first video released by the group to include actual footage from the film; previously only a short video of Randy Rose announcing the project, entitled "Junior's Double Trouble Nightmare", had been released. The trailer introduces Dustin York in the role of Randy Junior (previously mentioned but not seen in the earlier video).
The footage seen in the trailer, and more footage shot by The Residents with Don Hardy in 2016, will feature in Triple Trouble, expected for release in 2021.
See also
Junior's Double Trouble Nightmare

Dustin York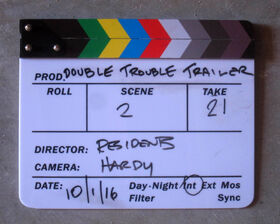 External links and references