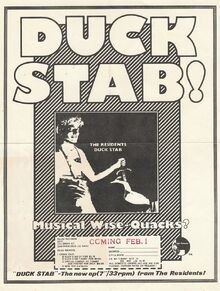 Duck Stab! is a 7" EP released by The Residents in 1978. The songs were later remixed and re-released (in a different order) as side one of Duck Stab!/Buster & Glen.
History
Duck Stab! featured songs sung clearly, with discernible (if surreal) lyrics - a first for The Residents. The Duck Stab! EP was a runaway success, selling out the first pressing very quickly, meaning that the band had to press more, which for them was highly unusual.
The sound quality of the EP was poor because The Residents had tried to squeeze sixteen minutes of music onto a single 7" disc. The band therefore decided to re-release the songs on an LP in order to improve the sound. To complete the album, they took a similar but unreleased EP entitled Buster & Glen as the second side of the LP. Duck Stab!/Buster & Glen would be released towards the end of 1978.
Track listing
Notes
Duck Stab! was mentioned in the song "Whiteness Thy Name Is Meltonian" from the album This Leaden Pall by Half Man Half Biscuit.
Community content is available under
CC-BY-SA
unless otherwise noted.