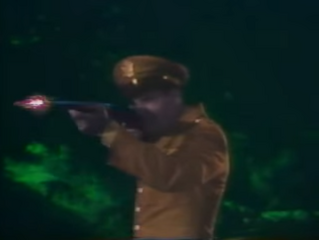 Earth Vs. The Flying Saucers is a video created by The Residents in 1985. The video colorizes selected footage of the classic film Earth Vs. The Flying Saucers and adds a new score by the band.
Background
Science Fiction's Greatest Hits
In 1985, The Residents developed a concept for a series of music video releases, entitled Science Fiction's Greatest Hits. Each video was to be a 2-4 minute piece edited from classic 1950s and 1960s science fiction films. These clips would be computer enhanced and colored, with a new score recorded specifically for each one.
As a demonstration of this concept, The Residents created Earth Vs. The Flying Saucers using scenes from Fred F. Sears's 1956 film of the same name. Unfortunately, negotiations for any further installments in the series fell through due to the expense in securing the rights to these films. Earth Vs. The Flying Saucers remains the only completed installment in the series.
Release
The video was debuted as part of the 13th Anniversary Show lasting from October 1985 to January 1987. It was shown as part of a compilation of the band's music videos before the performance, which itself would feature a shortened rendition of the video's score, in a mash-up with Where Is She?.
It's soundtrack would be released on June 1st, 1986, on a single sided green 7" single included with copies of the book The Cryptic Guide to The Residents. The video received only two home video releases, the first in the 1987 Video Voodoo VHS, and then as part of the Twenty Twisted Questions laserdisc. It was not included in the 2001 Icky Flix DVD video collection, and has not been released on DVD or digitally. Icky Flix, however, did feature a video for the song's live mash-up with Where Is She, which in turn was re-recorded for the DVD's alternative soundtrack, and was performed on the subsequent tour.
A shortened edit of the soundtrack was released on the 1997 box-set Our Tired, Our Poor, Our Huddled Masses,this shortened version would appear on two other compilation albums, Documentation, & 80 Aching Orphans
Release History
See also
Science Fiction's Greatest Hits

Earth Vs. The Flying Saucers (Score)
External links and references