Elvis Aaron Presley (January 8, 1935 – August 16, 1977), also known simply as Elvis, was an American singer, musician and actor. He is regarded as one of the most significant cultural icons of the 20th century and is often referred to as the "King of Rock and Roll" or simply "the King". His energized interpretations of songs and sexually provocative performance style, combined with a singularly potent mix of influences across color lines during a transformative era in race relations, led him to great success—and initial controversy. The Residents considered Elvis to be the ultimate and final form of American Music and based their Cube-E project around him.
Background
After building a respectable live act, Elvis Presley performed a set on the television and radio show Louisiana Hayride in 1954 at age 19, when The Residents were children. Louisiana Hayride was a popular Shreveport based show that broadcast in 28 states. It is likely that this show was The Residents first exposure to The King.
By 1956 Presley had stricken a deal with RCA Records, who released his first singles and successes, Heartbreak Hotel, Don't Be Cruel, Hound Dog, Blue Suede Shoes & Love Me Tender, all covered by The Residents many years later for their King & Eye album. The following year would come more singles, All Shook up & Teddy Bear, as well as Jailhouse Rock, recorded as soundtrack fro the film of the same name. That same year Presley received a draft notice but was allowed deferment in order to finish his latest film. In January of 1958, he released 'Don't', before being drafted into the military in March. During his time in the military, he released 'A Fool Such as I' & 'Big Hunk o' Love'
The Residents, now teenagers, likely would've paid especially close attention to Elvis after his return from the military, marked by the release of 'Stuck On You' in 1960. Throughout the decade, Elvis chose to focus on acting rather than music, but did release the hits Little Sister, His Latest Flame, Can't Help Falling in Love, Return to Sender, Devil in Disguise, & Viva Las Vegas. Although, during this time Elvis' popularity began to diminish in favour of the British Invasion lead by The Beatles, and by 1964, was failing to chart.
Now entering their twenties and showing more interest in experimental music, The Residents stopped paying much attention to the output of Elvis until the 1972 track 'Burning Love' piqued their interests.
On August 16th, 1977, Elvis Presley died of a heart attack at age 42.
Residents Tributes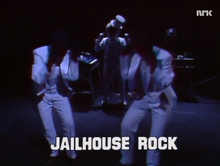 The Residents' first reference to Elvis is made In the song 'Walter Westinghouse', written and recorded in 1976, where Elvis's song 'Love Me Tender' is quoted...
'Love Me Tender, Love Me Sweet, Love Me Like I Love My Feet.'
Shortly after the death of Elvis, The Residents recorded 'Elvis & His Boss' in tribute to him for their Duck Stab EP. This would be the first released Elvis reference in a Resident song.
The group recorded their first official cover of an Elvis song during the 1982 Mole Show Rehearsals when they recorded their first version of 'Jailhouse Rock', released on the 1983 album 'Residue'. They would perform the song live from 1985 to 1987 as part of their 13th Anniversary Show, recording a studio version in Australia in 1986.
A statue of Elvis wearing an eyeball helmet would appear on the cover of their 1988 album 'God In Three Persons'
During the development of Cube-E, around March 1989, The Residents wrote and performed a re-arrangement of 'Burning Love', originally performed by Presley, for a performance of Buckaroo Blues on German Television. This would plant the seeds of the Elvis inspired Baby King segment of Cube-E, which would make its live debut in July.
In the months between Cube-E's test run at the Lincoln Center and the beginning of its touring performances in September, The Residents recorded a studio version of The Baby King at Different Fur Studios in San Francisco. These recordings would be released as The King & Eye in October, and be performed as part of Cube-E until November of 1990. Sometime in 1990, an EP featuring outtakes from The King & Eye was released as 'Don't Be Cruel' including 'Don't, & 'Surrender'. A music video for 'Don't Be Cruel' was released as part of the documentary 'The Eyes Scream' in 1991.
Due to the short time given for the Ty's Freak Show performance in 1991, The Singing Resident had to wear an Elvis outfit leftover from the Cube-E tour. For The Residents' 20th Anniversary project in 1992, Our Finest Flowers, the group recorded 'The Sour Song' & 'Baby Sister' inspired heavily by Jailhouse Rock & 'Little Sister' by Elvis, respectively.
In 2004 The Residents & Paralyzer worked together to create a techno-inspired remix of The King & Eye album, featuring newly recorded songs, for example, a new version of 'Jailhouse Rock' & 'Can't Help Falling In Love'.
The next year 'Teddy Bear' would be performed as the encore to The Way We Were live show, with Molly Harvey on vocals. Teddy Bear would also be performed on the 2013 'Wonder of Weird' tour, along with the Elvis Inspired Baby Sister. These same two songs would be performed on the 2017 - 2019 'In Between Dreams' tour.
Writing Credits On Residents Releases
The King And Eye (1989,

Heartbreak Hotel

,

All Shook Up

,

Love Me Tender

*)
Don't Be Cruel (1990, Don't Be Cruel, Uncredited)
Cube-E (1990,

Don't Be Cruel

, Love Me Tender*)
The Eyes Scream: A History Of The Residents (1990, Don't Be Cruel, Uncredited)
Twenty Twisted Questions (1992, Don't Be Cruel, Uncredited)
In Memoriam Torso (1994, Don't Be Cruel, Uncredited)
Our Tired, Our Poor, Our Huddled Masses (1997, Don't Be Cruel, Uncredited)
The King & Eye: RMX (2004, Heartbreak Hotel, All Shook Up)
Cube-E (2006, Heartbreak Hotel, All Shook Up, Don't Be Cruel, Uncredited)
80 Aching Orphans (2017, Don't Be Cruel)
Cube-E Box (2020, 'Don't Be Cruel', 'Heartbreak Hotel', 'All Shook Up', 'Love Me Tender')
*Note, despite Presley's writing credit on Love Me Tender, he did not, in fact, write it. Songwriters received a 50% cut if Elvis recorded their songs, so if Elvis had to record the song, he wanted songwriting credit.