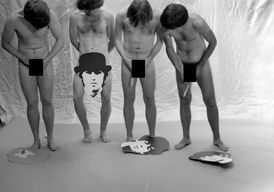 "Flying" is an instrumental track from The Beatles' 1967 album Magical Mystery Tour, credited to all four members of the band. In 1977 the track was covered for the b-side of The Residents' EP The Beatles Play The Residents and The Residents Play The Beatles.
Lyrics (1977)
Edit
Hahahahahahaha!

Ha-ha! Hahahahahaha!

Please! Please, everybody!
Please, if we didn't do everything we could have done,
We tried! We tried! Hahahahaha!

F-L-Y-I-N-G
F-L-Y-I-N-G
F-L-Y-I-N-G
F-L-Y-I-N-G
G, G, G, G

F-L-Y-I-N-G
F-L-Y-I-N-G
F-L-Y-I-N-G
F-L-Y-I-N-G
G, G, G, G

Appears on
Edit