Frank Vincent Zappa (December 21, 1940 – December 4, 1993) was an American musician, composer, activist and filmmaker. His work is characterized by nonconformity, free-form improvisation, sound experiments, musical virtuosity, and satire of American culture.
In a career spanning more than 30 years, Zappa composed rock, pop, jazz, jazz fusion, orchestral and musique concrète works, and produced almost all of the 60-plus albums that he released with his band The Mothers of Invention and as a solo artist. 
The Residents were highly influenced by the work of Zappa and The Mothers of Invention in their earliest days, and notably covered "King Kong" in 1971 with their collaborator Snakefinger.
History
As a self-taught composer and performer, Zappa's diverse musical influences led him to create music that was sometimes difficult to categorize. While in his teens, he acquired a taste for 20th-century classical composers such as Edgard Varèse, Igor Stravinsky, Anton Webern, and Halim El-Dabh, along with 1950s rhythm and blues and doo-wop music (such as Johnny "Guitar" Watson, Guitar Slim, Howlin' Wolf and B.B. King). He began writing classical music in high school, while at the same time playing drums in rhythm and blues bands, later switching to electric guitar.
His 1966 debut album with the Mothers of Invention, Freak Out!, combined songs in conventional rock and roll format with collective improvisations and studio-generated sound collages. The album was relatively popular, reaching 130 in the US charts. The Residents were in their early 20s when this album was released, and may have heard it at the time. He continued this eclectic and experimental approach, irrespective of whether the fundamental format was rock, jazz or classical.
In 1969, Zappa released the double album Uncle Meat, which charted at number 43. During this time The Residents had just begun recording home demos. The fourth side of the album consisted of one composition, "King Kong", a song which Residents Uninc. would cover in shortened form for their B.S. demo album. The Residents were perhaps inspired by Uncle Meat when creating their album Fingerprince, on which the six part suite "Six Things To A Cycle" takes up the entire second side. Fingerprince was originally intended to contain multiple sides, similarly to Uncle Meat. The abandoned third side was released as Babyfingers, which also featured one long song on the B-Side.
When Residents Uninc. released their first EP, Santa Dog, Frank was one of many figures to receive an ultimately returned copy.
Musically, Frank was a perfectionist, working his countless different bands night and day to make sure that they had perfected their craft and knew the music they were playing inside and out. However, once he was thoroughly convinced that they knew the music, he granted almost complete creative control of the way the music was played, encouraging improvisation and a mindset of playing what they felt sounded right.
Frank was a multi-instrumentalist, picking up the drums at an early age. He had a very strong love for percussion throughout his life, often working complex drum and marimba parts into his compositions. Frank played drums for several bands throughout his highschool years, but shortly thereafter, he started playing R&B guitar for a local group, and guitar would soon become his "main" instrument, and by far his most well known. As a young adult, Frank began composing music using a piano, and he can be seen playing piano at several early Mothers shows. However, as synthesizers became more prevalent in his later years, he began using them more and more, with the Synclaiver being his main form of composition in the years leading up to his death. Frank would create several albums worth of exclusively Synclavier music.
Zappa's output is unified by a conceptual continuity he termed "Project/Object", with numerous musical phrases, ideas, and characters reappearing across his albums. His lyrics reflected his iconoclastic views of established social and political processes, structures and movements, often humorously so, and he has been described as the "godfather" of comedy rock. He was a strident critic of mainstream education and organized religion, and a forthright and passionate advocate for freedom of speech, self-education, political participation and the abolition of censorship. Unlike many other rock musicians of his generation, he personally disapproved of drugs, but supported their decriminalization and regulation.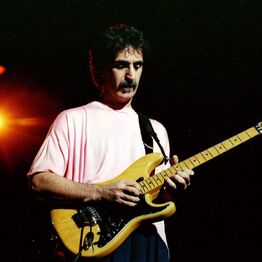 Frank toured regularly throughout his lifetime, only stopping after receiving an almost fatal injury at the age of 31, and during a short period during the 80s to focus on studio endeavors. His final tour was his 1988 "Broadway The Hard Way" world tour, which ended disastrously due to increasing conflicts within the band. Around the same time that the tour collapsed in on itself, Frank was diagnosed with Prostate Cancer, a diagnosis that came after decades of smoking several packs a day on average. Frank devoted the last 5 years of his life to completing the projects he deemed to be his most important, such as an orchestral performance with the Ensemble Modern, and a sequel to his 1968 album (and personal favorite) Lumpy Gravy, which he had been working on and off on for years, Civilization Phaze III, which would end up being the final album Frank would ever complete before his death.
Frank Zappa died peacefully surrounded by his family on December 4th, 1993, shortly before his 53rd birthday. Because Frank kept a personal archive of almost everything he ever did during his 30-year career, his estate has been able to release new archival recordings regularly since his death. His oldest son Dweezil has also spent the last 20 years touring the world, performing his father's music and keeping his legacy alive.
During Zappa's lifetime, he was a highly productive and prolific artist with a controversial critical standing; supporters of his music admired its compositional complexity, while critics found it lacking emotional depth. He had some commercial success, particularly in Europe, and worked as an independent artist for most of his career. He remains a major influence on musicians and composers.
Credits on Residents projects
"King Kong":
See also
External links and references