Hal Rodney Halverstadt[1] (also known as "Harve") (November 11th 1933 - December 14th 2008)[2] was a writer, editor, and record executive best known for his role as director of merchandising and advertising for Warner Bros. Records in the early 1970s. He was described in a 1972 Warner/Reprise promotional ad as being the man who "makes sure no album gets released".[3]
Halverstadt was also known for his correspondence with (and inadvertent role in naming) The Residents, after he rejected their demo tape The W***** B*** Album in 1971. His contact with the group continued sporadically until the mid-1970s, and he contributed a letter to Uncle Willie's book Uncle Willie's Highly Opinionated Guide To The Residents in 1993.
In his later years he operated a store in Los Angeles, Gazebo Antiques. He died December 14th 2008 aged 75.[2]
Biography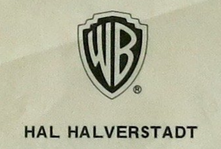 Hal Halverstadt, described as a "cherubic opera fanatic" in his younger years,[4] graduated from Flintridge Preparatory School for Boys in La Canada, California in 1951,[2] and studied theater and drama at Pomona College, writing the book and lyrics for a student musical, "Run For Cover", in 1954.[1][5]
After college he spent time with the U.S. Army as a reporter and news editor and was stationed in Japan in 1956 and 1957.[6] In 1958 he co-wrote another musical, "Break It Gently", with Carmino Carl Ravosa.[1] By 1960, he worked in New York City as managing editor for Craft Horizons magazine, where he remained until the late 1960s. He married his wife Laurel in New York in November 1960.[6]
Halverstadt began working as an editor and copyrwriter for Warner Bros. Records by the mid-1960s,[2] contributing liner notes to a number of releases on the label until the early 1970s, including Pata Pata by Miriam Makemba, Psycle by The Happenings, and Cycles by Frank Sinatra.
By 1970, Halverstadt had become merchandising director for Warner in Burbank, California. He was instrumental in signing Captain Beefheart and the Magic Band to Reprise Records in the late 1960s, and was also principally involved in a multimedia promotional campaign for Todd Rundgren's Something/Anything? in 1972.[3] In 1973, he was given the newly-created role of creative director, becoming chiefly responsible for Warner's special merchandising campaigns.[7]
Halverstadt lost his job at Warner Bros. in the mid-1970s as part of an "industry-wide purge" and left the music business thereafter.[8] By the early 1990s he was operating a store, Gazebo Antiques, in Los Angeles.[2]
Halverstadt passed away at the age of 75 on December 14th 2008. He was survived by his wife Laurel.[2]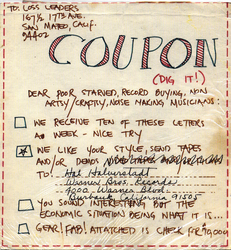 Halverstadt came to the attention of the group who would later become The Residents around 1970, when he was involved in signing Captain Beefheart and the Magic Band to the Warner Bros. subsidiary label Reprise Records. The group thought that if Halverstadt could appreciate Captain Beefheart's complex and sometimes abrasive music, he might also enjoy the experimental recordings that they had been making at home.
Their initial contact with Halverstadt was in the form of a letter with a cut-out public relations "coupon" attached, to be returned to the group (under the name "Loss Leaders") at their San Mateo apartment. Halverstadt returned the coupon, having checked the box reading "we like your style, send tapes and/or demos".
In response to this, the "Loss Leaders" compiled a demo tape entitled The W***** B*** Album in 1971 and sent it to Halverstadt in May of that year. He was not overly impressed with the group's earnest efforts (later describing The W***** B*** Album as "okay at best"[8]), but graded them "AXPp" - A for Ariginality, X for Xecution, P for Presentation, and p for potential.
Halverstadt had The W***** B*** Album returned to its anonymous composers, addressed to "Residents, 167½ 17th Avenue, San Mateo, Calif." - which the group quickly adopted as their official nom de plume (initially as "Residents, Uninc."), finding significance in what they considered to be a "bland, colorless name".[9]
The group sent a second demo tape, B.S., to Halverstadt in December 1971, accompanied with disturbing cover art modelled after the cover of the then-recent Warner release Randy Newman Live. Halverstadt returned the tape, explaining that B.S. "did not (repeat, did not) set Burbank on its ear", but encouraging them to continue sending him their material, noting that "there are enough heavy breathers here in Burbank to make it worth the postage".
Halverstadt congratulated Residents, Uninc. warmly in a letter following the group's move to their Sycamore Street studio and founding of Ralph Records in 1972, also sending them a selection of Warner releases from the prior two months.
He engaged in further written correspondence with Hardy Fox and The Residents for some time afterwards, becoming particularly interested in the pictures they were sending of their troubled feature film production Vileness Fats, but fell out of contact with them around the time he lost his job with Warner Bros. in the mid-1970s.
The Residents alluded jokingly to their correspondence with Halverstadt in the liner notes for their debut album Meet The Residents in 1974, claiming that they had negotiated with him to release their early work on Warner Bros. Records, only for him to withdraw his offer due to a slump in record sales.
Halverstadt kept the Vileness Fats photos in his office during his remaining time with Warner, and one photo of actress Marge Howard remained in his possession until at least the early 1990s. He eventually saw Whatever Happened To Vileness Fats? when he came across it in a video store in the 1980s and recognized the photo of Howard on the cover.[8]
Around 1992, Halverstadt wrote a letter (under the alias "Harve") to former UWEB fan club president Uncle Willie, who was compiling Uncle Willie's Highly Opinionated Guide To The Residents. Halverstadt closes the letter by telling Willie that "there better not be any of your weirdo fans showing up at my shop".[8]
Correspondence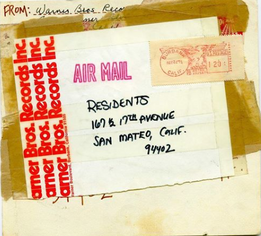 See also
External links and references