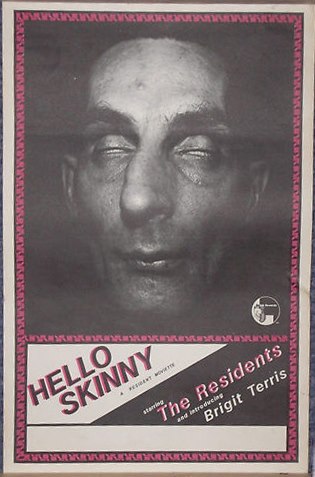 Hello Skinny is a 1979 short film by The Residents and Graeme Whifler, in support of the release of the album Duck Stab!/Buster & Glen. It stars Bridgit Terris as "Skinny". It consists mostly of still images, with some color footage of Terris.
Hello Skinny features the track of the same name from the Duck Stab!/Buster & Glen album. It was co-directed with Graeme Whifler (who also collaborated with the band on the Vileness Fats film project). It was intended to be the first in a series of films based around the tracks on the Duck Stab! album but ultimately this was the only one to be produced.
The video starred Bridgit Terris, a disabled man the group had chanced across who lived under the impression that he was Bridget Bardot. Bridgit had just been released from a local mental institution as a result of then-Governor Ronald Reagan's budgetary cuts.
Unfortunately, Bridgit ran off to San Francisco part way through filming, so much of the video was completed using montages of black and white still shots in addition to the little footage that was completed. The video's final, color scene was actually filmed for another Duck Stab! video which was never finished.
The video was a critical success on US campuses and in Europe, but MTV didn't go on the air until a year later and wasn't interested in innovative work. As a result, the video never got much air time in the United States. It was, however, shown regularly on Canada's MuchMusic's alternative video program. The full video was remastered and released on Icky Flix in 2001, and a copy is kept by the Museum of Modern Art.
See also
Edit
External links
Edit