I Murdered Mommy! is an unfinished CD-ROM game by The Residents, developed between 1996-1998 by the group as a follow-up to their 1996 game Bad Day on the Midway, and intended for release through publisher iNSCAPE.
I Murdered Mommy! was abandoned when iNSCAPE went bankrupt in 1997 and was never completed. An album consisting of instrumental pieces intended for the game's soundtrack was released in a limited edition on Ralph America in 2004, and reissued by Klanggalerie in 2017.
History and concept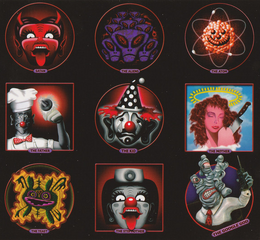 After the successes of their first three CD-ROM projects (Gingerbread Man, Freak Show, and Bad Day on the Midway), The Residents were encouraged by iNSCAPE to produce another. The group promptly set to work on what they hoped would become their most ambitious title yet: I Murdered Mommy!
I Murdered Mommy! was intended by The Residents to stretch the capabilities of the format to new limits and pave the way for further innovation. iNSCAPE, the company which had released Bad Day on the Midway, had some reservations with the proposed concept, "an interactive game based on the fantasy life of an emotionally abused 13 year old boy", but as Bad Day had sold well they accepted the project.
Unfortunately, shortly afterwards the CD-ROM market took a nosedive due to a mountain of inferior titles and limitations inherent in the medium, and iNSCAPE went under. I Murdered Mommy! was abandoned and shelved by The Residents, ending an era for the group.
Soundtrack album
Although I Murdered Mommy! was nowhere near completion when work on the project stalled, The Residents had nonetheless completed a number of "sketches" of music for the game.
In 2004, The Residents took those sketches, fleshed them out, and released them in a very limited edition on CD via Ralph America, featuring cover art adapted from the concept art for the game.
I Murdered Mommy! was reissued on Klanggalerie in 2017, also showcasing concept art from the abandoned game.
Track listing
IMM Presentation

(4:11)

Video Game

(1:56)

Dream Wheel

(3:51)

Google God

(3:51)

Andy Atom

(1:33)

Sea Monkey

(1:27)

Search For Truth

(4:14)

Breakdown

(0:38)

The Shoebox

(0:52)

The Game Ends

(6:48)
See also
External links and references