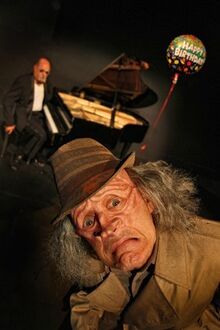 Joshua Raoul Brody is an American composer who has worked with The Residents since the days of Vileness Fats, Brody has collaborated with the band several times throughout their history, and has even acted as a touring member of the band.
Background
Joshua began working with The Residents circa 1974, when he was invited to the set of Vileness Fats by a co-worker, who promised a chance to meet Irene Dogmatic, who played the mayor of Vileness Fats. On the set, he portrayed a midget-waiter, who gets knocked out and replaced by Weenie, a member of a dangerous Vileness Fats gang, The Bellboys. Joshua met Irene, however, it was The Residents who seemed to take a strong liking to him, who later asked to arrange The Pointless Sisters's backing vocals for their 1976 'Satisfaction' cover. He was not initially credited for this role, but was eventually acknowledged in the credits on the Hell! compilation album.
During this time Joshua joined the musical comedy trio Rick & Ruby, as their pianist. He likely introduced The Residents to Monica 'Ruby' Ganas who performed lead vocals on their 1978 track The Electrocutioner.
His next work for The Residents would come in 1982, when he was hired to arrange more backing vocals, this time for their EP, Intermission. This EP would be the first time that Joshua was credited on a Residents project, albeit using a pseudonym, Raoul N. Di Seimbote. For much of the 1980s, Joshua would use this pseudonym for several Residents projects.
His first work as a vocalist for The Residents came in 1984 when he performed backing vocals for the James side of their George & James album. After this, he would record backing vocals for the album 'The Big Bubble', before moving back to simply arranging them. He then conducted the backing vocals on 'Hit The Road Jack' in 1987, and in 1988 became a touring member of the group, acting as part of their Cube-E era lineup lasting until 1990. He was once again initially anonymous, but has since been credited on the Cube-E concentrate track featured 'Our Tired, Our Poor, Our Huddled Masses' and the 2006 Cube-E box set. Following this his credited collaborations cease, until 2008 when he appeared The Bunny Boy album, and the subsequent tour.[1]
From 2011 to 2012 Brody worked with Residents lead singer Randy Rose in his solo show, Sam's Enchanted Evening, once again acting as a pianist. He aslo appeared in their webseries Randyland, performing a song from the show with Randy. Most recently he was the conductor and pianist for The Residents 2019 - 2020 God In Three Persons Mini-Tour.
Residents Credits