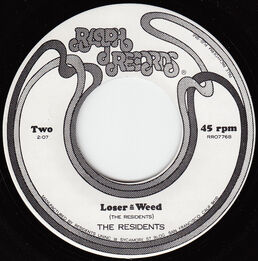 "Loser ≅ Weed" is a song by The Residents, composed and recorded in 1976.
First released as the B-side of their 1976 single "Satisfaction", it has since been reissued on some CD versions of The Third Reich 'n Roll, including the 2018 pREServed edition.
In geometry, the symbol "≅" featured in the title denotes congruence.
Free-ing, free-ing; free-ing for-tune
Loves he, loves he, the loser with
His gift, his gift, his gift of greed

Con-sume, con-sum-ing emp-ty on-
-ion rings, -ion rings and feeling like
And feel, and feel, and feeling like a weed

And feeling like, and feeling like, and feeling like
And feeling like, and feeling like, and feeling like
A weed

Legs are social graces like the names
Of those foreign faces, what more could he do?
He polished up the deli spread and put his mother
Back in bed and then he, then he went home too

Appears on
Edit