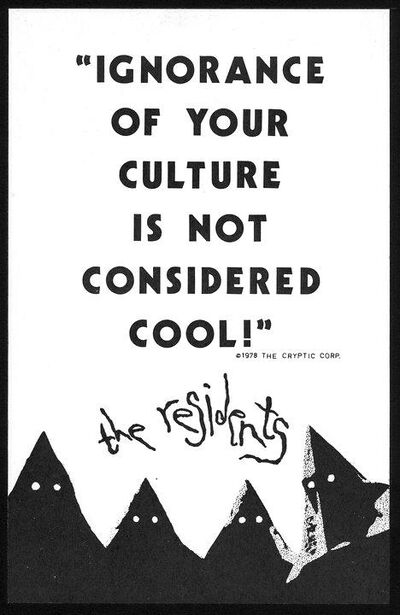 Welcome
Welcome to Meet The Residents Wiki, an unofficial guide to North Louisiana's Phenomenal Pop Combo!
For over 40 years, The Residents have been at the forefront of virtually every new technology in sound, video, performance and multimedia - and still, nobody can say exactly who they are.
This wiki (based largely on the sources listed below) aims to provide an introduction to those unfamiliar with the rich history of The Residents, as well as a historical resource for both casual and obsessive fans, including information on related entities such as The Cryptic Corporation and Ralph Records.
The Residents
The Delta Nudes
| Combo de Mecanico | The UGHS! | Sonidos de la Noche | Black Tar
 Randy Rose | Charles Bobuck | Hardy Fox
Discography | Live shows | Videography | Interactive media | Bibliography
Studios | Disguises | Identities | Unfinished projects | Tribute albums
Reference texts
Recent and upcoming releases
A single, "Die! Die! Die!" featuring the original Alvin "Dyin' Dog" Snow demo of the song on side A and The Residents' cover version (featuring Black Francis) on side B, was released digitally and on 7" vinyl on Psychofon Records in May 2020. A second digital-only single, "Bury My Bone", was released June 28th 2020.
The album Metal, Meat & Bone - The Songs of Dyin' Dog, featuring covers of the Dyin' Dog tracks by The Residents, as well as the original Dyin' Dog demos and six additional songs by The Residents inspired by him, was released July 10th 2020 on MVD/Cherry Red. The six additional Residents tracks did not feature on the standard double LP vinyl edition of the album, instead being released at the same time on Psychofon Records as a standalone limited vinyl EP, Metal, Meat & Bone - Six Songs Inspired By Dyin' Dog.
The most recent releases in The Residents and Cherry Red Records ongoing pREServed archival reissue series are a two disc Not Available set, featuring the original, unheard 1974 recording sessions, and A Nickle If Your Dick's This Big, a two disc collection of the group's 1971 and 1972 demos and live recordings. Both were released November 9th 2019, completing "phase one" of the pREServed campaign.
The next expected release in the pREServed series is the seven-disc Cube-E Box, containing a complete live recording of an Amsterdam Cube-E performance, another (almost) complete hometown recording of the show, and additional related tracks, as well as The King & Eye and its previously unreleased demos. This set is due for release October 23rd 2020.
Other instalments in the pREServed series expected for release at an unknown date are multiple-disc Freak Show and Gingerbread Man sets, and an American Composer Series box set, which had been originally intended for release in 2019 but delayed while the group searched for additional material.
Other releases
Upcoming live performances
External links and references
Official
Unofficial
In memoriam
Hardy Winfred Fox Jr.
March 29 1945 - October 30 2018
Recent Wiki activity
Community content is available under
CC-BY-SA
unless otherwise noted.