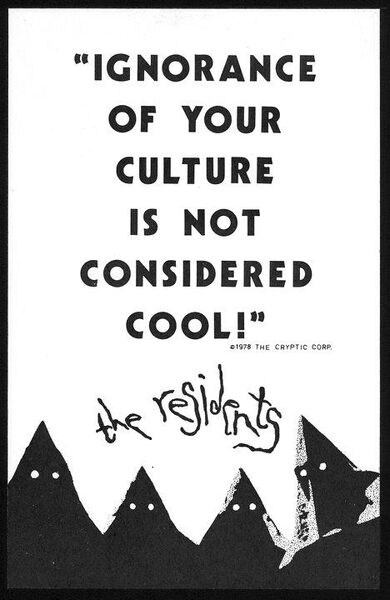 Welcome
Welcome to Meet The Residents Wiki, an unofficial guide to North Louisiana's Phenomenal Pop Combo!
For almost 50 years, The Residents have existed at the forefront of virtually every new technology in sound, video, performance and interactive media - all while operating under a veil of obscurity and anonymity.
Since January 2017, this wiki (based largely on the sources listed below) has aimed to provide a comprehensive historical resource and reference point for both casual and obsessive fans of The Residents. It also includes information on related entities such as The Cryptic Corporation and Ralph Records.
You can begin your journey through the wiki either by using the search bar to the upper right hand side of the page, the quick links in the "explore", "contents" and "recent projects" tabs in the navigation menu at the top of the screen, or the links under the "navigation" heading below.
Look out for TRIPLE TROUBLE - coming soon to a theater or drive-in near you!
The Residents
The Delta Nudes
| Combo de Mecanico | The UGHS! | Sonidos de la Noche | Black Tar
N. Senada | Randy Rose | Charles Bobuck | Hardy Fox
Discography | Live shows | Videography | Soundtracks | Interactive media | Bibliography
Studios | Disguises | Identities | Aliases | Unfinished projects | Tribute albums
Reference texts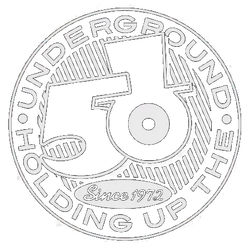 Recent and upcoming releases
The most recent release in The Residents and Cherry Red Records ongoing pREServed archival reissue series is a three-disc Gingerbread Man set (which also features the soundtrack album Hunters and other contemporary material, including the recently unearthed "

Fat Boy

" demo). It was released May 28th 2021, alongside a limited edition vinyl release of the album.
The next expected release in the pREServed series is the nine-disc

Wormwood Box

, containing the original album as well as Roadworms, Wormwood: Live In Europe 1999, and over forty previously unreleased tracks, including two CDs of previously unheard demos and sketches and the 1998 Fillmore live performance. The box will be released January 28th 2022, and will followed by a double LP reissue of the album later in the year.
Leftovers Again?!, a compilation containing the first of the group's lockdown-induced "multi-track explorations" and other rarities (including a seven-and-a-half minute "concentrate" of the 1970 demo Rusty Coathangers for the Doctor) was released on Record Store Day (June 12th) 2021, in a pressing of 1300 vinyl copies.
Other expected releases in the pREServed series include an expanded edition of Have A Bad Day and an expanded Icky Flix collection (which was previously issued as a limited edition vinyl release for Record Store Day 2020).
A series of deluxe pREServed two and three LP editions of the "classic" 1970s era Residents albums, featuring previously unheard material, are expected to commence in 2022. These released are expected to include studio outtakes previously excerpted on CD (such as 1-10 (With A Touch of 11), German Slide Music, X Is For Xtra), as well as "a series of brand new RDX suites", likely to include the group's "extended drone experiments", and "multi-track explorations" of album master tapes. A short "

RDX Sampler

" was released via Soundcloud alongside the announcement.
The American Composers Box, featuring the two American Composers albums and various contemporary material, is also expected for release at an unknown time in the near future. This set has been repeatedly delayed, due to rights issues surrounding "one key element" of the set which are still unresolved.
The Residents are in post-production on their feature film Triple Trouble, having completed shooting over ten days in lockdown during the COVID-19 pandemic in 2020 with the assistance of long-time collaborator John Sanborn. They are hoping to complete the film by the end of September 2021 for submission to the Sundance Film Festival, with further screenings on the festival circuit to follow thereafter.
Triple Trouble will also be accompanied by a soundtrack album entitled Endless Illusions, which is currently being recorded by The Residents. The album is expected to be released alongside the film.
Other releases
The Residents' second run of latex eyeball masks, manufactured by SikRik Masks, are now entirely sold out via the MVD Shop. Blue, green and red masks are still available directly from the manufacturer.
Italian record label

Radiation Reissues

has reissued Eskimo on cassette for the first time since 1987; the new edition was released May 28th 2021.

Modern Harmonic

has reissued the mono version of Meet The Residents on vinyl in a limited edition of 500 opaque lime green copies, available only through their website. This pressing was released July 1st 2021. A second variant was released July 31st 2021; a limited edition blue and black swirl variant from Newbury Comics, sold exclusively through online retailer Vinceron.
A private limited lathe-cut 7" edition of "Santa Dog '84" was released by noted Residents collector Jannis Tsakalis in November 2021. The single is available in two editions, transparent vinyl and black vinyl (20 copies were made of each), both featuring the original cover art by Rex Ray. The single includes the original "Santa Dog '84", as well as a later version with Molly Harvey on vocals, and an edited version of "

Mr Skull's New Years Eve Song

" on the B-side.
Psychofon Records have announced the release of a limited edition archival vinyl double album titled Mole Dance 82. The release will be issued as a double album on colored vinyl, in a limited edition of 200 copies. Each set is housed in a tri-fold gatefold album cover with a paper cut-out "Mole Show theater" included. The album was originally expected for release at the end of October, but is now expected to begin shipping in late November.
A 17 minute "stereoscopic 360º immersive performance" titled Inside a Circle of Dreams premiered at the Festival of International Virtual and Augmented Reality Stories in November 2021. The short virtual reality film features The Residents performing their In Between Dreams live show at the Litquake festival in October 2018, accompanied by all new stereoscopic animated imagery created by four guest artists.
Publisher Melodic Virtue have compiled material from The Cryptic Corporation archives for a series of hardcover coffee table books focusing on the history and art of The Residents. The first in the series, A Sight For Sore Eyes, Vol. 1, has officially been announced for release on January 7th 2022. The book comes in two editions; the regular edition includes a 7" single featuring a previously unreleased Not Available-era outtake, "Nobody's Nos" (in a limited run of 1500 copies), and a deluxe edition, which also features a 7" x 7" Duck Stab!/Buster & Glen notebook and "Nobody's Nos" on a 7" picture disc (limited to 500 copies).
Upcoming live shows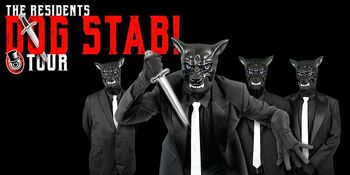 After having been delayed repeatedly due to the COVID-19 pandemic, The Residents' Dog Stab! tour has finally commenced, with the three remaining American shows (at the Regent in Los Angeles on September 15th, the Castro in San Francisco on the 17th and the Rio in Santa Cruz on the 18th) going ahead as scheduled.
The tour is currently scheduled to continue in Europe in January and February 2022. The following European tour dates are current as of September 20th 2021:
The Residents and John Sanborn expect to bring their theatrical adaptation of the album God In Three Persons to Europe in summer 2022, with an expanded set list featuring three additional songs not heard in the earlier performances.
External links and references
Official
Unofficial
In memoriam
March 29
1945 - October 30 2018
Something missing?
Meet The Residents Wiki is compiled and maintained by fans for fans, and has not been officially endorsed by The Residents, The Cryptic Corporation, or their record labels. Although we attempt to derive as much information as possible from official sources, some information seen in these pages may nevertheless be missing, incorrect, outdated, or apocryphal.
You can help us to improve the wiki by signing up as a Fandom user and helping to create and edit our articles. You can also drop into our Discord server to chat with the administrators, moderators and contributors. If you are intending to contribute to the wiki, please also take the time to read our user rules.