Mr. Skull (originally Mr. Red Eye, also known as Dead Eye Dick) is a pseudonym and identity which has been attached to a member of The Residents, usually either their keyboard player or vocalist.
The persona of Mr. Skull was created in 1985, following the theft of one of the group's eyeball masks from a show on their 13th Anniversary tour. Mr. Skull has regularly appeared alongside the three eyeball-masked Residents in the group's live shows, album art and promotional imagery in the years since.
History
The oversized skull prop which would later become the first iteration of Mr. Skull was one of two large skulls purchased by Residents, Uninc. in the early 1970s, at auction from a sign company who was going out of business.[1] The Residents used the skulls in photography projects and in promotional art and music video for the album The Third Reich 'n Roll.
One of these skulls was first used as a mask during the group's Oh Mummy! Oh Daddy! performance in 1976, where it was worn by The Singing Resident while performing "Kamakazi Lady".
The skull then went largely unused until 1985, when, after a performance at The Palace in Los Angeles on the group's 13th Anniversary Show tour, one of the group's iconic eyeball masks (specifically, Mr. Red), was stolen. The Residents were distraught, and as a result the affected Resident donned the skull mask, eventually becoming known as Mr. Skull (although the other members of the group also jokingly nicknamed him Dead Eye Dick).
The stolen eyeball was later returned, but was retired permanently by The Residents as it had been returned in a damaged condition, and they considered it to have been tainted by the theft. As a result, the Skull persona continued to appear with the group onstage and in promotional material until the end of the 13th Anniversary tour in 1987.
Mr. Skull next appeared in a newly redesigned costume in the group's 1989 tour Cube-E. He performed a specially-written overture entitled "Mr. Skull's New Years Eve Song" for the New Years Eve concert in 1989.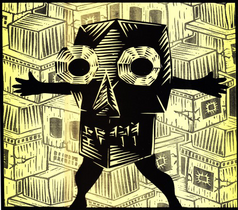 A new Mr. Skull mask was created in the mid 1990s, alongside three new eyeball masks. These were featured prominently in the promotional artwork for the group's 1997 retrospective Our Tired, Our Poor, Our Huddled Masses and in 2001 in the promotional artwork for the DVD and album versions of Icky Flix.
In 1998, The Singing Resident assumed the identity of Mr. Skull for the Wormwood tour, and again in 2001 on the Icky Flix Live tour. Mr. Skull continued to be portrayed by The Singing Resident until his most recent onstage appearance in 2006 at the Remembering The Beatles performance.
Mr. Skull has not made any further live appearances with The Residents to date, but does still occasionally appear in merchandising for the band (with two bobbleheads having been released by the group, the most recent in 2020).
Live appearances
See also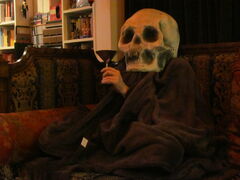 External links and references
↑
"The light table came from an auction at a sign company that was going out of business. We also bought two skulls at the auction and one of them became Mr. Skull, the eyeball in mourning, when one of the eyeballs masks was stolen from a show in LA. No shit." - Randy Rose, "Residents History - Part 10 (continued)",

Maurice and Me

, 2013