Mush-Room is a performance piece by Belgian theater group Needcompany and choreographer Grace Ellen Barkey, featuring original music by The Residents' long time composer Charles Bobuck.[1]
Mush-Room ran between March and August 2013 with various dates in Belgium, Germany and Sweden.
Bobuck's music for the show was released as a stand-alone album (credited to The Residents) on January 29th 2013 by The Cryptic Corporation, and was reissued later in the year by MVD Audio.
History
Around 2012, The Residents were commissioned by theater group Needcompany and choreographer and artist Grace Ellen Barkey to create music for a touring modern dance performance. The music on the album was partly inspired by Barkey's sketches for the performance[2], and she is paid tribute on the album with "Song For Grace".
The album was recorded by the group's primary composer Charles Bobuck, alone in a town in the French Rhone using two connected iPads - one as the instrument and the other as a multi-track recorder. This arrangement did not work entirely to Bobuck's satisfaction, and he ultimately re-recorded most of the album in his California studio in the fall of 2012.[2]
Mush-Room was later identified by the group's former producer Hardy Fox as being an example of a "Charles Bobuck contraption" attributed instead to The Residents.[1]
Release
Mush-Room was released by The Cryptic Corporation on January 29th 2013, initally only being available via the Needcompany website and at the merchandise stand on The Residents' Wonder of Weird tour. The album was reissued by MVD Audio in November of the same year.
It is the last studio album released by The Residents before the retirement of Charles Bobuck and producer/composer Hardy Fox from the group in 2016, although their contributions are also featured on the 2017 album The Ghost of Hope.
Track listing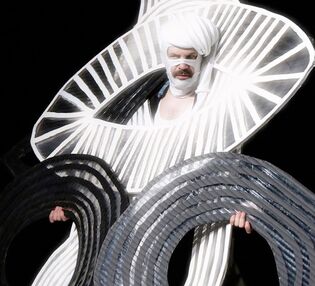 Mush-Room

 (10:43)

Musical Chairs in 3/4

(2:37)

Sticks And Logs

(3:13)

Dung Beetles At Work

(4:19)

Broken Brake

(2:27)

Yellow Marrow

(3:11)

When The Wealthy Were Wise

(3:55)

Song For Grace

(3:19)

Between A Rock And A Hard Space

(5:06)

The Birth Of Mush Room

(5:34)

The Dream I Almost Remember

(2:31)

Only Room For One More Mush

(5:12)
See also
Needcompany

Grace Ellen Barkley
External links and references