The Sandman Will Keep You Awake - The Loop
Play Sound
N. Senada (born Nigel Sinatra, commonly referred to as The Mysterious N. Senada) (b. May 28th 1907 - d. 1993) was a German composer and music theorist who formulated the Theory of Obscurity and the Theory of Phonetic Organization.
Senada's original works have mostly been lost to time; as a result he has been little known outside of the context of his collaborations with the American group The Residents, who he mentored in the early 1970s, composing every selection on their 1971 demo tape B.S. and appearing as himself in their unfinished feature film Vileness Fats.
As well as his work within the field of music theory, Senada was also an avid musical anthropologist and amateur photographer; his 1972 expedition to the Arctic inspired The Residents' 1979 "audio documentary" album Eskimo,[1] and his photographs from the expedition formed the basis of the later DVD adaptation in 2002.
Always "a very, very distant character",[2] Senada died in 1993 at the age of 86 and was survived by his partner Max Steinway. His 1937 composition "Pollex Christi" was recorded for the first time by The Residents in 1996, and was released the following year on what would have been his 90th birthday.
Biography
Early years (1907-1944)
"If the audience wants perfectly played music, let them listen to angels. Human music should stumble along most pitifully." - N. Senada[3]
The Mysterious N. Senada was born Nigel Sinatra on May 28th 1907 in Bavaria, Germany.
His approach to composition borrowed more from architecture than from standard music theory; he openly considered himself to be a poor composer, and likened his process to building "houses" out of "bricks" - these "bricks" consisting of excerpts from other composers' works. The compositions themselves were mere "blueprints", while the final performance of the piece was the completed "house".[3]
He was quoted as having said in 1935: "I am not the composer of the bricks, I just cement them together. I am the composer of the house. It is the house that is important: its form, its usefulness, its sense of joy." Senada's compositions have been noted for their complexity and difficulty; he felt that as the pace of life became increasingly uncontrollable, so too should music, and wrote his work in hope that the performers' mistakes would introduce otherwise unimaginable variations into the piece.[3]
In 1937, Senada premiered his masterpiece, "Pollex Christi" (which translates to either "The Big Toe of Christ" or "The Thumb of Christ"). "Pollex Christi" mainly consisted of borrowed pieces from other composers, namely Beethoven's Symphony No. 5 and Carl Orff's Carmina Burana, among others, creating a "collision of Germanic themes".[3]
Sinatra also left large gaps in the "blueprint" of "Pollex Christi", so that the performers could insert music of their choosing, thus "becoming composers themselves". Typically, the music chosen to fill these gaps were short excerpts of contemporary popular music, chosen to deliberately contrast with the rest of the work. These were often Senada's favorite parts of "Pollex Christi".[3]
Senada's "pre-post-modernist" work was not well-received in Germany, and he was accused of being a thief and "cultural Pagan". For his part, Senada did nothing to deny these accusations, instead responding: "If a man steals philosophy from many great thinkers and combines them into a new philosophy, is he not yet another great thinker?"[3]
Senada left Germany in 1938, in response to the scorn of his peers and the growing dominance of the National Socialist movement, bringing most of his compositions with him (although other than "Pollex Christi", most have not survived). He next lived in northern Canada, where he abandoned musical composition altogether, claiming that the music inside him was now "too frightened" to come out.[3]
Despite this, he maintained an interest in sound and musical theory, and much of his philosophical work was born from this period. It was in Canada that he first became fascinated with the culture of the Inuit people, an interest he would continue to research throughout the remainder of his life.
After the end of World War II, Senada continued travelling. He did not return to Bavaria until 1969.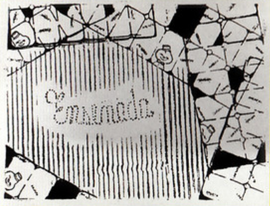 Accounts differ regarding the circumstances by which Senada came to meet the group who would later become The Residents.
According to long-established Residents history, Senada was discovered making tape recordings of bird song in the Black Forest of Bavaria in 1969 by Philip "Snakefinger" Lithman.[4] In search of strange and unusual new sounds, Senada then travelled with Lithman to California around 1970, whereupon the two met the group.[5] After being introduced as a "composer", Senada explained to the group that he was a poor composer, but an excellent architect.[3]
Other sources have since claimed that the composer arrived unannounced on the group's doorstep in San Mateo, California in 1970, wearing a trench coat, fedora and sunglasses, and at this point was unknown to all present (including Lithman, who had been introduced to the group through mutual friend Margaret Smyk).[6]
He adopted the nom de plume "The Mysterious N. Senada" as a direct result of this meeting, after Lithman misheard the heavily-accented Sinatra as he was trying to introduce himself. Senada embraced this name (which was briefly styled as "Ensenada") to the extent that he would adopt it for the rest of his life, even applying it retrospectively to pieces written decades prior to this meeting.[6]
Described many years later by The Cryptic Corporation's Homer Flynn as "a fascinating figure", but "a very, very distant character" who he'd had little personal knowledge of, Senada's primary relationship within the group was with Lithman, and then to some degree, "a couple" of Residents.[2] He spoke very little ("if any") English, despite finding the English language "quite fascinating",[7] and often chose to communicate using nonsense syllables which only Lithman seemed to be able to interpret.[8] Despite this, Senada's influence was almost instantly felt on The Residents' art projects and recordings.
An amateur photographer, his signature appears on a photograph of members of the group standing nude (and unmasked) in 1970, which was featured on the front cover of the 2013 compilation album The Delta Nudes' Greatest Hiss. In the original liner notes which accompanied their 1971 demo tape The W***** B*** Album, the group are credited as Ensenada and Spontaneous Cumbustion.
A Senada composition, "Cantaten to der Dyin Prunen" (seemingly composed with Lithman), appears on the group's second 1971 demo tape B.S. and another, "Cantaten und Symphonen for der Saxophonen und Violinen" was performed during the group's live radio broadcast on KHSC-FM in the same year.
An instrumental suite recorded by The Residents (possibly with Senada) in 1972,[9] 1-10 (With a Touch of 11), was excerpted on the pREServed edition of their debut album, Meet The Residents, in 2018; described as "really a complete album",[9] the tape was later released in full as the second half of the limited edition double LP compilation Warning: Uninc. in 2022.
Senada is also known to have appeared with the group onstage at their early live performances, and made a notable cameo appearance in their abandoned feature film project Vileness Fats. In all of these appearances, Senada performs vocals and saxophone on two songs, "Kamakazi Lady" and "Eloise". 
Rumors have persisted of a number of additional impromptu performances by Senada reading poetry and improvising on saxophone at open-mic nights throughout San Francisco during this time, but to date none of these appearances have been confirmed by The Residents or their representatives.
Expedition to the Arctic and reappearance (1972-1979)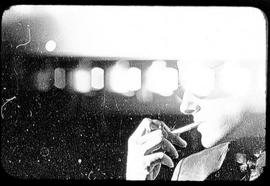 Beginning in 1972, Senada spent most of his time studying Inuit culture,[10] believing that there was a missing "musical link" hidden among the people of the polar north, and occasionally sent cassette tapes of his research to The Residents.[10]
Senada "just disappeared one day" in early 1974, leaving The Residents to presume he had travelled to Greenland to further his studies.[10] He briefly re-appeared in San Francisco in 1976, apparently turning up unannounced in the middle of the night at The Residents' studio.[1]
Senada claimed to have indeed been on an expedition to the Arctic, where he had been making tape recordings of genuine Arctic wind sounds. He gave The Residents copies of these tapes, as well a sealed thermos flask full of pure Arctic air (insisting that they "get this on tape")[10] and two undeveloped rolls of film,[11] and suggested that the group "should all live in a refrigerator for a year".[1]
These gifts served as inspiration for The Residents' most ambitious project yet, Eskimo - an "audio documentary" album which was finally released in 1979 after a long and difficult production. Senada's original arctic wind field recording is featured on a bonus CD included with the 2019 vinyl compilation Eskimo Deconstructed.
Final years and death (1980-1993)
Senada's last known public appearance was in August 1987, at The Snakey Wake for Philip "Snakefinger" Lithman, who had died suddenly of a heart attack while on tour. Similar to the group's earliest performances, Senada performed loose, improvisational renditions of "Kamakazi Lady" and "Eloise" on sax and vocals. This recording was eventually made available on the Robot Selling Device EP Live At The Snakey Wake in 2010, and is included on later reissues of the studio version of The Snakey Wake.
Always "kind of in the distance",[2] Senada largely remained in obscurity following the Snakey Wake performance, until his death in 1993 at the age of 86. He was survived by his life companion and assistant Max Steinway.[3]
Legacy
The Residents recorded Pollex Christi in 1996 as a tribute to Senada, and released it on May 28th 1997 (which would have been his 90th birthday). For The Residents' interpretation of the piece, the "holes" were filled with a variety of recognizable modern tunes, such as the theme from the TV series Star Trek. Pollex Christi was initially distributed in two limited editions of 400, but has since been reissued as part of the Best Left Unspoken series of instrumental works.
In the early 2000s The Residents re-discovered the photographs from Senada's Arctic expedition, using them as source material to create a slideshow of still images depicting the stories "told" on their 1979 album Eskimo.[11] This slideshow accompanied a 5.1 surround sound remix of the album on a 2002 DVD release. Senada was credited as a director of the Eskimo DVD alongside The Residents.
Homer Flynn of The Cryptic Corporation announced in December 2019 that "a British writer" had completed a biography about Senada, based on recently rediscovered writings by Senada.[12] The book, O for Obscurity, or The Story of N., was released alongside a vinyl reissue of The Residents' Pollex Christi by Psychofon Records in Spring 2020.
Senada's saxophone, long thought lost, was located in the Cryptic archives in March 2021 by publisher Melodic Virtue while they were researching A Sight For Sore Eyes, their series of coffee table books covering the history of The Residents.[13]
Music theory
Theory of Obscurity
Senada's Theory of Obscurity states that an artist can only produce the purest expression of their art when the expectations and influences of the outside world are not taken into consideration at all.
This theory influenced The Residents' decision to operate under a cloak of anonymity, and also influenced the creation of their album Not Available - recorded secretly as their second album in 1974, and only released in 1978 as a stopgap following a series of delays in the production of Eskimo.
In modern times, Senada and his theory are referred to almost exclusively in connection with The Residents, although other organizations have also claimed influence from this theory.
Theory of Phonetic Organization
Senada's Theory of Phonetic Organization states that "the musician should put the sounds first, building the music up from [them] rather than developing the music, then working down to the sounds that make it up."
The Residents' 1974 debut album Meet The Residents was assembled by the group in accordance with the Theory of Phonetic Organization. The liner notes to the album state that Senada had developed a complex musical system based on this theory.
Compositions
Solo
Collaborations
Live performances
Appearances on Residents releases
Posthumous
See also
External links and references