Nessie Lessons is an American vocalist who is best known for her work with The Residents, providing occasional guest vocal performances since her first uncredited appearance on Commercial Album in 1980.
Lessons was the wife of The Residents' producer and engineer Hardy Fox; they divorced in 1984 but remained close for the remainder of his life.[1]
She has continued to work with The Residents sporadically in the years since, with her most recent appearance being on Charles Bobuck's "Let Me Tell You (About It)" in 2017.
Nessie Lessons was an associate of the group of friends who surrounded The Residents, who married the group's producer and arranger Hardy Fox in 1976. Around this time, Fox composed the instrumental suite "Leapmus" for Lessons, which would later form the basis for a number of tracks on The Residents' 1977 album Fingerprince.
Lessons' earliest known recorded appearance with The Residents was on Commercial Album in 1980, for which she provided vocals (initially uncredited) on several tracks. This was followed by another uncredited appearance on the 1981 album Mark of the Mole. Lessons' first credited appearance with the group was as lead vocalist on the song "Happy Home" on their 1982 album The Tunes of Two Cities.
Lessons toured with The Residents on their Mole Show tour between 1982 and 1983, performing vocals for "Voices of the Air" and "Happy Home", and occasionally acting as spokesperson for the group whenever Penn Jillette was not available.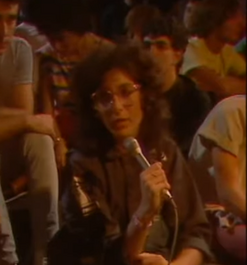 Lessons and Fox divorced in 1984 on amicable terms when Fox met Steven Kloman (who he would marry years later).[1] Lessons' final activity with The Residents prior to the divorce was an appearance on "Hellno" from the soundtrack to the 1985 film The Census Taker.
Lessons later married a man she met while collecting census data, and the two couples would occasionally cross the country to spend time with each other over the years.[1]
In 1992 Lessons wrote a retrospective review of the group's American Composers Series for the book Uncle Willie's Highly Opinionated Guide To The Residents and made an appearance on the retrospective mash-up album Our Finest Flowers.
In 1998 she appeared on the Melody Sumner Carnahan track "The Time Is Now", from the compilation album of the same name.
In 2013 she joined Charles Bobuck and The Residents to record "Shake It, Shake It (I Wet My Bed)". This was followed in 2015 by an appearance on the Bobuck track "Snow Song". She also recorded "Let Me Tell You (About It)" with Bobuck prior to his retirement in 2017.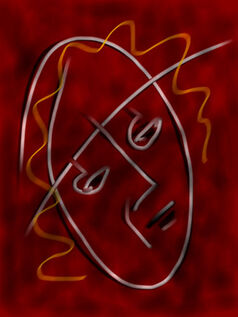 See also
External links and references