This article is about a

current or upcoming project

.
Information may be added and/or changed as further updates become available.
If you see something missing, you can help

the wiki

by updating the article.
"Nobody's Nos" is a limited edition single by The Residents, featuring a previously unheard outtake of the same name, supposedly recorded around 1974 for the group's operetta Not Available.
The single was released on January 7th 2021, as a bonus item with copies of the limited edition coffee table book The Residents: A Sight For Sore Eyes, Vol. 1 by publisher Melodic Virtue. The standard edition of the book included "Nobody's Nos" on a black 7" vinyl single, whereas the deluxe edition featured the track on a 7" picture disc.
History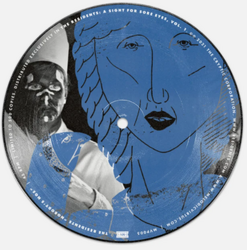 Dating from The Residents' 1974 Not Available sessions, "Nobody's Nos" showcases a character, Nobody, who was apparently removed from the operetta at some point during its development after having been deemed "too negative" by the group.[1]
The character is also mentioned in the associated book, The Residents: A Sight For Sore Eyes, Vol. 1, which indicates that "Nobody" is the figure with his face painted black with white nose and cheek highlighted in white,[2] as seen in Residents promo photos dating from the Not Available era (and also pictured on the deluxe 7" picture disc version of the single).
Track listing
Nobody's Nos
Liner notes
In the original story of Not Available, there was a sixth character called Nobody. However, he was ultimately removed from the operetta by The Residents, because he was deemed too negative.
"There's somebody that lives in the Negative Zone, but I can't remember His name." -- The Mysterious N. Senada, Ralph Records Catalog No. 1, Feb. 1977, pg. 3
See also
External links and references
↑
"Nobody's Nos" liner notes, 2021
↑
Aaron Tanner

, The Residents: A Sight For Sore Eyes, Vol. 1, Melodic Virtue, 2022