The Residents' Official News BOG was a news blog maintained by Big Brother of The Cryptic Corporation beginning in August 2003 (originally titled The Residents' Official News Blog and Website Wrapper), following the company's purchase of the residents.com domain name from fan site RZWeb (now defunct).
Around March 2004, this blog became known as the Official News BOG. In this form, the blog became The Cryptics' (and thus, The Residents') main outlet for communication with their fans until the website's redesign in 2008.
This page collects posts made to this news blog in June 2006, as archived on archive.org.
Blog entries
CUBE E BOX SET Now Available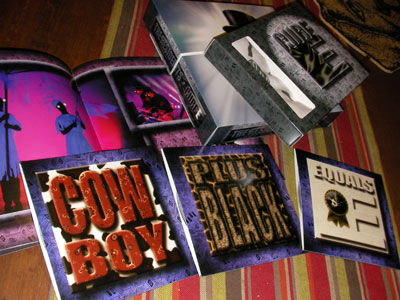 Ralph America and Euro Ralph are NOW selling the New CUBE E release.
Contains the entire show live, a DVD of video snippets (most already released) and a handkerchief reproduction of the ones thrown from the stage by Granddad E and a beautiful book of photos all in a very smart package.
Posted: Thu - June 1, 2006 at 09:10 AM
The Residents present TWEEDLES

The Cryptic Corporation has announced that the next full length new Residents album has been completed and is scheduled for release by Mute on October 2, 2006.
More information will be posted as it is submitted to me.
Reasons to rejoice: The River of Crime and Tweedles in one year.
Posted: Thu - June 1, 2006 at 10:10 AM
River of Crime's odd release plan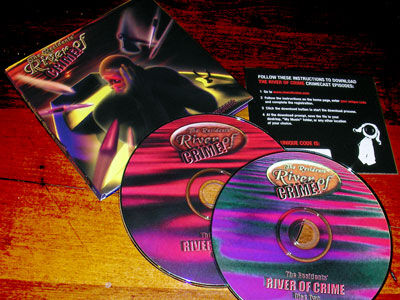 Cordless has put on sale though an exclusive arrangement with Virgin Megastores in the USA and The New York Museum of Modern Art, a double CD pack that is completely blank.
Yes. The two recordable CDR's come with a key that allows the person who buys it to download the five 15 minute episodes and use the blanks to burn their own CD's. The set and discs are completely packaged as though they contain music, but they are blank recordable discs. You will be required to burn them yourself. Weird, huh!
The downloads include other stuff too, including a 15 minute instrumental version of music from the shows to add to your CD's that won't be available any other way (of course). All in all, two full CD's of Residents.
Oh, you can also order it from www.cordless.com or www.riverofcrime.com in case you don't live close to a Virgin store or MoMA, starting Tuesday June 13th.
BTW:
The digital assets (episodes, etc...) will remain active until 31 December, 2007. If interrupted by service errors, you will be able to reconnect and download until the episode is complete.
There is a help phone number in the package if you have problems.
Posted: Fri - June 2, 2006 at 10:38 AM
New Renaldo & The Loaf site now on-line
[broken image]
Posted: Tue - June 6, 2006 at 09:03 AM
River of Crime available for pre-order from "The Ideal Copy"
***Direct link to ROC so you don't have to search for it****
*
Posted: Tue - June 6, 2006 at 11:39 AM
Wormwood costume auction 2
[broken image]
Posted: Wed - June 7, 2006 at 12:26 PM
Pee-wee's Playhouse Makes TV Return on Adult Swim (Cartoon Network)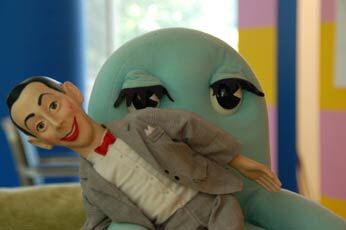 Emmy-Winning Series Returns to Air Monday-Thursday at 11 p.m. (Eastern, Pacific) starting July 10th.
Pee-wee's Playhouse, the winner of an astounding 22 Emmy Awards and a pop culture touchstone nearly 20 years after its debut, returns to TV, joining the Adult Swim lineup beginning Monday, July 10. The acclaimed series, which has been largely absent from the airwaves for nearly 15 years, stars Paul Reubens as his alter-ego Pee-wee Herman, and features a rich cast of characters who drop by "the place where anything can happen."
Adult Swim, Cartoon Network's late night sister network featuring animation and other programming aimed at adults 18-34, will air the groundbreaking series Monday-Thursday at 11 p.m. (ET, PT), airing all 45 original half-hour episodes of the series and the rarely-seen Pee-wee's Playhouse Christmas Special. Many of the episodes have not been seen on TV since the original Saturday-morning run of Pee-wee's Playhouse.
The Residents scored five of the episodes.
Posted: Mon - June 12, 2006 at 01:25 PM
River of Crime comparison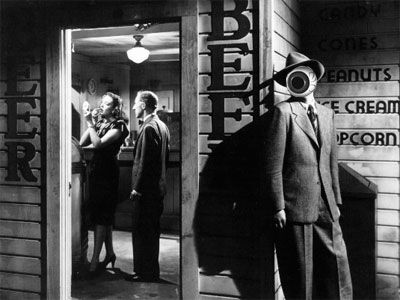 Cordless has announced that the River of Crime episodes will be released as a normal CD in the fall of 2006.
The 2/CDR blank version:
PROS: Will include an additional 15 minute instrumental suite and various freebies like ringtones. Special package. Limited edition collectible.
CONS: MP3 files. You have to burn your own discs. Only available in the USA Virgin Megastores, MoMA, or mail-order through Cordless.com and theidealcopy.com.
The price will be $14.98 - CDR package and key for downloads.
The 1/CD version coming in the fall:
PROS: Full fidelity. Widely available.
CONS: Normal package. Minor editing to allow fitting on one disc. No bonus material.
Posted: Mon - June 12, 2006 at 02:45 PM
River of Crime 2/CDR's (blank) now on sale from "The Ideal Copy"
***Direct link to ROC so you don't have to search for it**** *
Posted: Tue - June 13, 2006 at 06:39 AM
River of Crime 2/CDR's (blanks) now available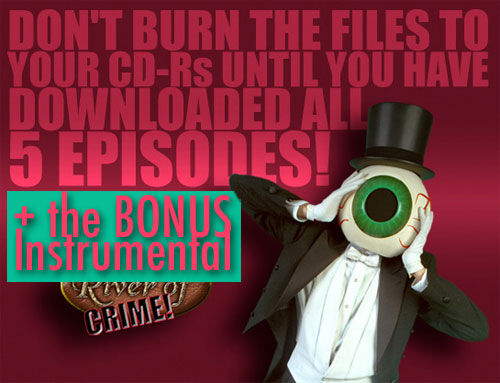 If you already have your package of blank CDR's, you can go to www.riverofcrime.com and download your first episode.
But you probably don't have yours yet but soon. Get the blanks and the access code at The Ideal Copy (mail order), US Virgin Megastores, or MoMA museum store (NY). then go to www.riverofcrime.com to get access to files including wallpaper, icons, and more.
Posted: Tue - June 13, 2006 at 11:00 AM
River of Crime Episode 1 on iTunes for $1.99
[broken image]
You don't have to buy the blank CD's
Direct link to iTunes ROC Episode 1
http://phobos.apple.com/WebObjects/MZStore.woa/wa/viewAlbum?id=157907024&s=143441
Posted: Tue - June 13, 2006 at 04:56 PM
New York Press reviews River of Crime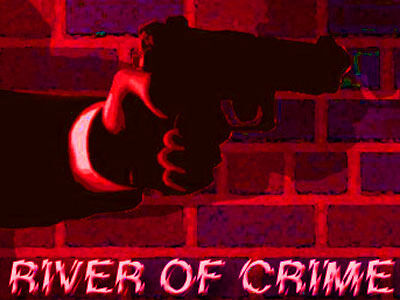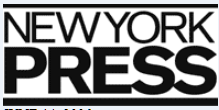 JUNE 14, 2006
JIM KNIPFEL
MUSIC
As legend has it, around 1970 a SF-based experimental-art collective recorded a demo of their bizarre, sometimes abrasive music and mailed it off to Warner Brothers. In accordance with their philosophy, very little information was included with the tape. No names, no photos.
Since no names had been given, when the tape was returned a few weeks later it was addressed simply to "Residents." So while they may not have gotten a record contract out of it, they did at least get a name for their band.
Over the next 35-plus years, The Residents have continued experimenting, becoming anonymous, eyeball-headed, avant-garde legends, producing music, art and films on their own terms: They released some 40 albums, were inducted into MoMA, turned CD-ROM and DVD into art forms, and their rare live performances were like nothing you've ever seen.
Over those same years the major record labels remained determinedly stagnant, foisting a lot of crap on the world. Eventually consumers stopped caring.
But history's a funny beast. Not only is it cyclical, but sometimes when it swings back around, the forces have shifted a little. Recently, the major labels finally recognized that people were listening to music in a different way—often without the labels' intervention. So slowly, reluctantly, they began offering music online.
When Warner took the leap last year, they found The Residents—who'd always been five steps ahead, technology-wise—waiting for them. And last November, Warners' new digital wing, Cordless, finally offered The Residents that contract.
But instead of simply posting a bunch of three-minute songs, on June 13 they released the premiere episode of The River of Crime, possibly the world's first serialized musical, radio-drama podcast, with new episodes appearing every two weeks. Think of it as a post-postmodern Mercury Theater, hosted by a shadowy, nameless Orson Welles.
"Radio drama" may not be the right word, given there are no radios involved—but it expresses the idea. Like the radio dramas of the 1930s and '40s, The River of Crime uses multiple actors, sound effects and music to tell a cryptic tale which stretches over a planned 20 episodes.
Each episode plays out on several levels. There's the narrator recounting his story in the present, actors and sound effects recreating the story and a historical incident (like the Rosenberg execution) providing a thematic base. There's also the music, which remains unmistakably Residential while hearkening back to the dark jazz of film noir, and a Greek Chorus commenting on the goings-on.
It's an awful lot to cram into each 15-minute episode, yet all the parts mesh beautifully, almost operatically. Some of the individual episodes are more compelling than others, granted.
The question is, in this zip-bang world, will people listen to a structurally complex drama that'll demand their attention and imagination for 15 minutes? Beyond simple imagination, even, River of Crime requires some thinking. Some connections are left intentionally obscure, as is often the case with The Residents' work. But The Residents have always given their listeners a little more credit than most, and River of Crime is a heckuva ride—at turns darkly funny and sad, creepy and nasty. At others it's downright disturbing.
Never thought I'd say it, but here's to Warner for having the balls to take the chance, and for finally recognizing where they should go to get the job done right.
River of Crime (www.riverofcrime.com) subscription packages available at Virgin, the MoMA store and through the Cordless website.
Posted: Thu - June 15, 2006 at 03:19 PM
Another way to hear ROC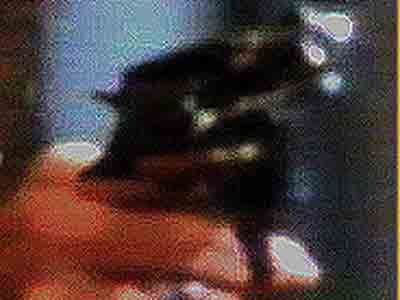 Cracklin' Radio is currently featuring "The Kid Who Collected Crimes!" as the featured new release this week on the internet station.
http://www.live365.com/stations/ezreal
It is also going to be played during the second hour of the weekly show, Vinyl Casserole, on Canadian internet station LG73 (http://www.lg73.com) which is also on iTunes.
Current plans are to air the other four episodes as they come out in the next few months.
Posted: Mon - June 19, 2006 at 07:04 PM
Urban Pollution Review of first 2 episodes of ROC

The Kid Who Collected Crimes! and Gator Hater!
Written By: Jerry Long
River of Crime! is a five episode audiobook in the style of classic true crime radio serials. The Residents have updated this format for the digital download era, and are offering each quarter hour podcast for download online from music services such as iTunes and Napster. This is the perfect time to update the radio drama, now that a similar phenomenon is happening with podcasting. The first two episodes, The Kid Who Collected Crimes! and Gator Hater! are a good enough beginning of what could prove to be an empty novelty, or a great use of technology to revitalize dated methods of mass entertainment.
The story revolves around the life experience of the unidentified narrator. In the first episode, The Kid Who Collected Crimes!, the narrator explains the origins of his obsession with criminality. Having an intense interest in American inventors, he ultimately fixates on Thomas Edison's electrocution of an elephant in 1903. This turns into a general fascination with electrocutions, then eventually crime in general. The narrator soon realizes he is so consumed by crime that all of his friends are criminals, his family is inaccessible, and he is becoming increasingly more fearful of the unseemly future that awaits.
The episode also details the narrator's childhood discovery that the only woman ever executed by the state of Louisiana grew up in the house next door to his grandmother. He becomes so infatuated with the idea that he breaks into the neighboring house and rifles through the former belongings of the executed criminal. His narrow escape after being discovered provides him with a thrill that further compounds his addiction to lawlessness.
Gator Hater! continues to describe the narrator's childhood. It begins with the narrator sneaking out of his house to see a baby alligator that had found its way to the local lake, after his mother had explicitly forbidden him to do so. His mother catches him and threatens to severely punish him, only to break down in tears. The mother then explains her best friend was fed to a group of alligator by her crazed boss, who was angry she had spurned his sexual advances.
Both episodes are heavy in detail, with sometimes graphic descriptions that would never have worked in the original 30's radio programs. Electrocutions are fully cataloged with descriptions of burning flesh, bulging eyeballs, and thick smoke. The narrator's mother gives lurid examples of the boss feeding cocker spaniels to his hungry alligators. Specifics like these help keep the stories interesting, adding a visceral element to the mostly spoken word chapters.
There are some elements of music. Quirky, psychedelic damaged instrumentation plays throughout and has a solid quality one would expect from a group that has worked 30 years on their art form. The Residents don't let the music dominate, though, and it is merely used as another device to the keep the story moving and things entertaining. High pitched sung vocals are also used occasionally to add flavor and emphasis to some of the narrator's chronicles. Other voices are also used when appropriate to depict characters the narrator encounters, adding another dimension to the narrative.
Additional consideration can also be made for the Resident's subtle political commentary. The series is about crime, yet begins with a focus on the punitive. With horrid descriptions of execution, the Residents don't let the listener escape into a fantasy of right vanquishing wrong. Tactics such as execution are forcibly exposed in all their gory harshness, with no way to evade confronting the issue directly. The narrator's obsession with criminality also seems to be a an analogy for the larger society's obsession with crime as well. By continuing to focus on crime, the narrator's life only gets darker and bleaker. Perhaps the Residents are suggesting modern day culture does the same with news segments that are more prone to focus on the violent and criminal elements of the day's events.
Whatever becomes of the series remains to be seen with future episodes. The only real danger is that the story will go nowhere, and it will merely turn into a set of overly explicit horror stories with no overarching leitmotiv to tie it all together. However, the Residents are off to a good start with these two episodes, and the concept itself is executed well. Those expecting a musical album will only find this mildly interesting, but this should appeal to fans of audio books and spoken word and who don't shy away from uneasy subject matter. With River of Crime!, the Residents continue to find new ways to keep their distinct art important and current.
http://www.urbanpollution.com/Music/The_Residents/Collected_Crimes!_and_Gator_Hater!/
Posted: Fri - June 23, 2006 at 08:21 AM
Official MySpace site getting better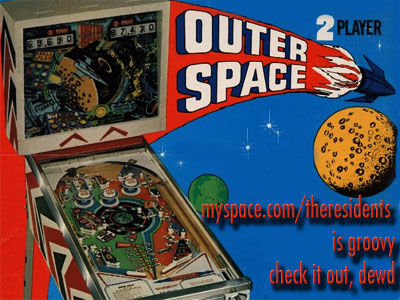 The Residents (or at least officially represented) are now on MySpace, and you can find some downloadable tunes now and more stuff on the way.
Posted: Mon - June 26, 2006 at 09:30 AM
UK ROC download problem resolved
www.cordless.com to the rescue
There have been problems with iTunes in the UK showing incorrect pricing on ROC EP1 download (they wanted 7.99 pounds).
Today I got this from Cordless:
"Please direct UK fans to this link to buy the MP3 of ROC Episode 1 from our cordless.com store:
http://store.cordless.com/store/buy.asp?upc=wmgmp318137194&sys=CRD
It's priced correctly and works internationally.
And since it's available as MP3, it'll work for both Mac and PC users..."
Posted: Mon - June 26, 2006 at 09:49 AM
WHOOPY SNORP: The Residents Hour: July 3rd & 8th
[broken image]
Posted: Mon - June 26, 2006 at 02:06 PM
CNN discovers the wacky Residents

Posted: Mon - June 26, 2006 at 04:56 PM
What you ACTUALLY get when you have the 2/CD of blanks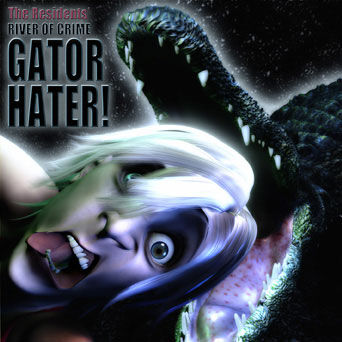 The following is what you can download when you are a subscriber using the codes inside the "blank" CD's that are being sold.
Of particular note is that there is a bonus track, BLUE TONGUES RMX, in addition to script, wallpapers, and more. Expect even more freebies in future Episode releases.
Episode 2: Gator Hater!
Episode 2: Gator Hater! (14:55, mp3, 20.5mb)
Bonus Content: AIM Icon 2 (jpg, 4k)
Bonus content: Wallpaper 2 (800x600, jpg, 152k)
Bonus content: Wallpaper 2 (1024x768, jpg, 228k)
Bonus content: Wallpaper 2 (1280x1024, jpg, 348k)
Bonus content: Gator Hater! Script (37k)
Bonus content: Alternate Cover (jpg, 54k)
SPECIAL BONUS TRACK: Blue Tongues RMX (previously unreleased remix)
Episode 2 Preview
3:21 minutes - 4.6 MB
Posted: Tue - June 27, 2006 at 07:25 AM
See also
External links and references