Pamela Wieking Zeibak is an American artist and vocalist who was an early collaborator of The Residents, most prominently appearing on their first three studio albums Meet The Residents, The Third Reich 'n Roll and Fingerprince.
Zeibak currently lives in Laguna Niguel, California.
History
Prior to meeting the group of friends later known as The Residents, Pamela Zeibak studied at San Francisco State University, where she achieved a Bachelor's of Music.[1]
She befriended The Pre-Residents in the late 1960s,[2] instantly proving herself to be an invaluable part of the group's music-making process for one simple reason: she was the only person they knew who'd had any vocal training. Whenever the group needed female vocals on a song, they would call Zeibak, and she would arrive at their San Mateo apartment with a group of vocally trained friends.[2]
It is possible (but unconfirmed) that she sings the backing vocals on "The Ballad of Stuffed Trigger" and lead vocals on "B.S." (as alluded to in a newsletter from Hardy Fox, where he stated that Zeibak would sing pornographic lyrics without question).
Her first appearance on a publicly issued Residents product was on their very first release, the Santa Dog EP in 1972, performing backing vocals on the closing track "Aircraft Damage", for which she and her friends were credited as The Singing Lawn Chairs.[2]
Her next role was on the group's debut studio album Meet The Residents, performing lead vocals on "Spotted Pinto Bean". On the album notes she was credited as Pamela Wieking; this credit was later corrected to Pamela Zeibak on the 2018 pREServed edition. She was credited for the first time under her correct name on The Third Reich 'n Roll in 1976.
Zeibak made her live debut that same year, performing "Spotted Pinto Bean" with The Residents in their Oh Mummy! live performance in June. A photo of Zeibak from this show was featured on the back cover of the group's 1977 album Fingerprince. This album also featured her final collaboration with The Residents, in the fifth part of the album's closing suite "Six Things to a Cycle".
Today, Zeibak lives in Laguna Niguel, California, and runs an Etsy store where she sells embroidery.
Credits on Residents releases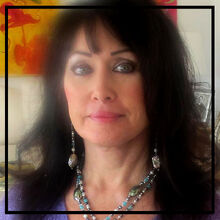 Archival releases
See also
External links and references