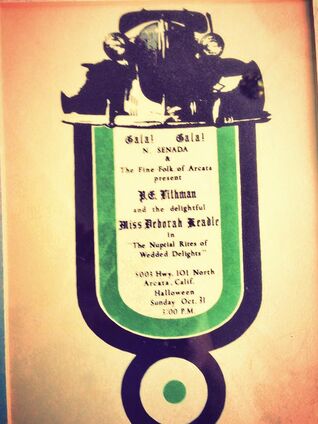 The Party of '71 was a performance on Halloween 1971 in Arcata, California, by the group who would later become The Residents.
This performance was at the reception for Philip "Snakefinger" Lithman's wedding to Deborah Keadle.
Performance
Edit
The wedding was announced on the invitations under the name "The Nuptial Rites of Wedded Delights", and as being presented by "N. Senada and The Fine Folk of Arcata".
According to Randy Rose on his blog Maurice and Me: "Philip's visa was running out soon so this woman he knew up there volunteered to marry him so he could stay in the States. Well it also seems that everybody at the wedding, which coincidentally occurred on Halloween, was on a mind altering substance, and with roughly half the crowd being drunk the other half on LSD, it made for a VERY STRANGE mix. It was wild, and not always good wild."[1]
Among the attendees of the wedding were Sally Lewis, who would later play Weescoosa the Indian Princess in the Vileness Fats film.
Little else is known about the performance and to date, few excerpts have been released, aside from a performance of "Eloise" under the title "Party of '71" on the ERA B474 compilation (though this same excerpt had also been released earlier on the compilation Liver Music as "Excerpt from the Party of '72").
The performance was recorded in its entirety, and this recording is expected to be remastered and released in 2019 on a pREServed set of The Residents' early recordings.
References
Edit