Refused is a 1999 compilation album by The Residents, featuring all recorded iterations of the track "Fire" (or "Santa Dog") to date, and other tracks related to their debut 1972 EP Santa Dog.
Background
In late 1972, Residents Uninc, a newly formed artistic collective, had moved into a new building at 20 Sycamore Street in San Francisco. The building was previously house to a dog magazine, and a large printing press had been left in the basement, and in front of the press was a Polaroid of a weenie dog in a Santa suit, signed Santa Dog. The group grew fascinated with the photo, and it became something of an inside joke, heightened only more so when they realized that it was an anagram of Satan God.[1]
Santa Dog tickled the group so much that they began recording a suite inspired by the pup titled Santa Dog. Residents Uninc sent out the suite as their Christmas card on 2x7" vinyl in December of 1972. They sent copies to friends, family, heroes and Richard Nixon, who returned the EP with a 'Refused' stamp.
Six years later, Residents Uninc had dissolved into two organisations, The Residents and The Cryptic Corporation. The two had something of a falling out in 1978, and to make up for it, The Cryptics bought the mysterious foursome a new studio. The Residents, excited to try out the new studio on some old material, got to work on Santa Dog 78.[2] Remembering the Satan God connection and noting that it had been six years since the original, the group decided that it would be fun to make a tradition of this, re-recording Santa Dog every six years to see how they'd changed musically. So in 1984, the group set out to re-record Santa Dog a second time. During these sessions, The Residents recorded two versions but eventually called it off, not sure it was different enough from their '78 version to be worth releasing. They decided instead that they would re-record it when they felt a significant shift in their style.
By 1999 The Residents had recorded enough versions of Santa Dog to fill a whole album and figured they should put them all into one. But with CDs being able to contain an hour worth of music, it felt odd to release a 35-minute compilation, and so, a new suite of tracks was recorded based on the original EP. This suite included Flood, Famine, Plague, Pestilence, and Fire '99 / Santa Dog 2nd Millennium. As with the original EP, The Residents named each track after reasons you'd need insurance.
Ralph America released the album on December 15th 1999, in a limited edition of 1,333 hand-numbered copies. For the album's 20th Anniversary, Klanggalerie released an expanded edition. This version presented the tracks pseudo-chronologically with eight new adaptions added while removing 3/4 of the songs found on the original EP. The 2019 re-issue also included two demo tracks left off the original, Santa Cow and Santa Dog 84. 'Cow' was an unreleased demo from 1988, and '84' was a previously released demo found on the Santa Dog 88 EP that was left off the original Refused.
Track listing
Santa Dog '84 (Unfinished) (A Work In Progress) (3:05)
Fire (1:45)
Lightning (3:19)
Explosion (2:17)
Aircraft Damage (3:51)

Flood

(2:43)
Santa Dog '78 (Fire) (1:53)

Famine

(0:45)
Santa Dog '88 (5:15)

Plague

(1:36)

Santa Dog NYE

(Live) (3:44)
Pestilence (4:09)

Where Are Your Dogs? Show Us Your Ugly!

(12:55)

Fire '99

/ Santa Dog 2nd Millennium (9:52)
Extended Version
In December 2019, the album's 20th anniversary, Klanggalerie released an expanded version of the album, collecting versions of Santa Dog recorded since, re-ordering the album into pseudo-chronological order, and removing the non-Santa Dog tracks found on the original Santa Dog EP.
It is 21:05 minutes longer than the original.
Track Listing
Fire (1:45)
Santa Dog '78 (1:53)
Santa Dog '84 (2:56)
Santa Dog '84 (Unfinished - A Work In Progress) (2:59)
Santa Dog '88 (5:14)
Santa Dog N.Y.E. (Live) (3:39)
Santa Dog '92 (12:52)
Famine (0:46)
Pestilence (4:07)
Flood (2:44)
Plague (1:37)
Fire '99 / Santa Dog 2nd Millennium (9:54)

Santa Dog 2006

(2:46)

Santa Dog 2012

(6:05)

Santa Dog 2017

(4:36)

Santa Dog For Gamelan Orchestra

(5:13)

Santa Cow

(5:08)

Santa Dog (Live 2013)

(4:00)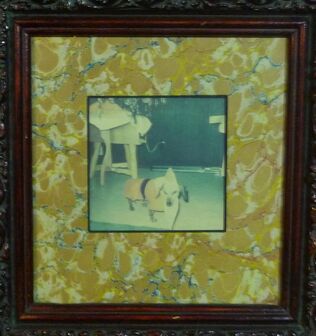 Liner notes
The Pilgrimage of Santa Dog through the Second Millennium
The Residents have always been sentimentalists. They were big on family and friends, religious holidays and the American flag. No one should have been surprised that their very first recording was dedicated to Santa and dogs, two mainstays of modern American culture.
Many folks thought Santa Dog was just a big joke when they received their shiny copy in the mail way back in 1972. Some tore them up trying to open them because their shiny copy was still wet with varnish and permanently stuck together. Others greeted them with seasonal cheer and then tossed them out with the other cards and wrapping paper on December 26th. One was even refused.
Santa Dog doesn't care. He comes without presents again and again: 1978, almost in 1984, 1988, 1992, and now, 1999. When will he be back, we all ask, wide-eyed, expectant with sugar plum visions? Only the future nose, my children, and it is wet and cold.
Credits
External links and references
↑

Santa Dog '78 liner notes