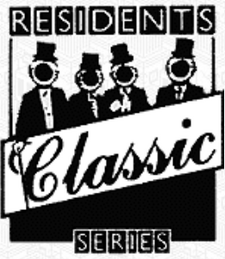 The Residents Classic Series was a series of CD reissues of "classic" era albums by The Residents, released by East Side Digital (in the USA) and Torso (in Europe) in 1987 and 1988. The Classic Series editions were the first CD versions of these albums to be released.
Releases in this series featured the first seven studio albums by The Residents, beginning with 1974's Meet The Residents and concluding with 1980's Commercial Album, with additional songs from singles and EPs and other rarities included as bonus tracks.
ESD intended to follow this series in 1991 with the Film and Video Series, featuring works created by the band for film and television, however only one entry in this second series (Whatever Happened To Vileness Fats? and The Census Taker) was released by ESD and Torso; a second followed in 2010 featuring the soundtracks to Strange Culture and the Masters of Horror episode "Haeckel's Tale", but this was released digitally through the group's Robot Selling Device.
Later CD reissues of the albums largely dispensed with the bonus tracks, until the pREServed series of newly remastered, multi-disc editions of albums from The Residents' catalog began in 2017. The pREServed series can be seen as a successor of sorts to the Classic Series, though it is much more expansive and has released a significantly higher amount of previously unheard material to the world.
List of releases
See also
External links and references