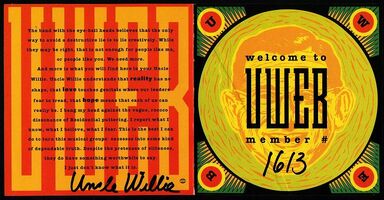 Santa Dog '88 is an EP by The Residents, compiling all what was then all recorded versions of their 1972 debut single Santa Dog.
It was the first release by the group's fan club UWEB (or Uncle Willie's Eyeball Buddies).
History
"Santa Dog '72" (or "Fire") was the first track to be publicly released by The Residents (as well as being the first track released on their record label Ralph Records), as part of their 1972 debut EP of the same name.
The Residents re-recorded the track in 1978, as they believed they had moved on from the innocence of their earliest work and had developed a new style. A third version of the track was attempted by the group in 1984, but it was abandoned as the group ultimately felt they had not changed enough stylistically since 1978 to merit a new version.
The group would finally complete another updated version of the track in 1988, which was released on an EP alongside the previous versions, as the first release through the group's new fan club Uncle Willie's Eyeball Buddies (often referred to simply as UWEB), led by dedicated fan Uncle Willie.
Release
Santa Dog '88 was sent out to all members of UWEB in December 1988, featuring the member's official UWEB membership number handwritten in the liner notes. Every copy was signed by Uncle Willie and acted as an official membership card.
In February of 1990, a version with yellow-colored artwork was released through UWEB. It shortly after went out of print, and wouldn't be re-released until the 1995 UWEB Box Set in a limited quantity of 20.
Track Listing
Credits
See also
External links and references