The Sandman Will Keep You Awake - The Loop
Play Sound
This article is about the 1976 single.
You may be looking for the song of the same name.
"Satisfaction" is a 7" single by The Residents, featuring a cover of the Rolling Stones song of the same title on the A-side and a Residents original, "Loser ≅ Weed", on the B-side. It was first released on Ralph Records on September 12th 1976.
Designed as a short distillation of the ideas which led to the creation of their album The Third Reich 'n Roll, "Satisfaction" helped The Residents gain their first notable attention in the New Wave music press.
History
"Satisfaction" was first released in 1976 in a run of only 200 copies with hand-screened, three color covers (which were then hand-inked with three more colors). The single includes a cover of The Rolling Stones' "Satisfaction", backed with a Residents original, "Loser ≅ Weed". It was recorded between April and June of 1976.[1]
The single was reissued in 1978 to take advantage of the group's newfound popularity following the release of the Duck Stab! EP, in an edition of 30,000 copies pressed on transparent yellow vinyl in a slightly re-designed two color sleeve.
This reissue caused a disagreement between The Residents and The Cryptic Corporation as it was issued without their consent; this disagreement would lead to The Residents taking the master tapes of Eskimo and fleeing to England, forcing the release of Not Available in the interim. Despite this, the re-issue was fairly successful in its own terms, topping the Record World New Wave Top 20 of June 17th 1978. The re-issue also featured a longer version of its A-Side. The original 3:54 version of Satisfaction has never been re-released.
However it is possible, that the 3:54 track length was incorrect. Early on in their career, The Residents' releases would contain incorrect track lengths, such as the original pressings of Meet The Residents or Fingerprince.
Track listing
1976 release
Satisfaction (Jagger/Richards) (3:54)
Loser ≅ Weed (Residents) (2:07)
1978 Re-Release
Satisfaction (Jagger/Richards) (4:30)
Loser ≅ Weed (Residents) (2:09)
Credits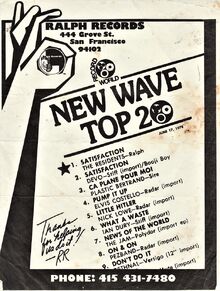 Quotes
One should question the purpose or intent of this work, and if they do, I'm sure that they will agree that this is, in fact, the most determinant-ly repellent music ever heard.
- Jay Clem, The Residents Radio Special, 1977
Aye yea [I perform on Satisfaction], they forced me, tied me into the studio, and then beat me with whips while I played my guitar over the solo piece of that. [...] That was well before New Wave reared its ugly head. That was Some Wave. The wave before New Wave, well before any of that was even started.
- Snakefinger, KPFA Radio Interview, 1980
Release History
See also
External links and references
↑

W.E.I.R.D Book of The Residents

Discography (1979)