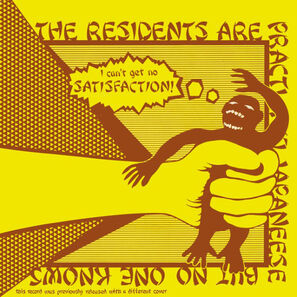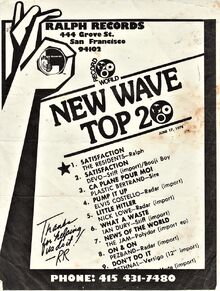 Satisfaction is a 7" single released by The Residents in 1976.
Designed as a short distillation of the ideas which led to the creation of their album The Third Reich 'n Roll, the Satisfaction single helped The Residents gain attention in the New Wave music press.
History
Satisfaction was first released in 1976 in a run of only 200 copies with hand-screened, three color covers (which were then hand-inked with three more colors). The single includes a cover of The Rolling Stones' "Satisfaction" backed with a Residents original, "Loser ≅ Weed".
The single was reissued in 1978 to take advantage of the band's newfound popularity following the release of the Duck Stab! EP, in an edition of 30,000 copies pressed on transparent yellow vinyl in a slightly re-designed two color sleeve.
According to Residents lore, this reissue caused a disagreement between The Residents and The Cryptic Corporation as it was issued without their consent; this disagreement would lead to The Residents taking the master tapes of Eskimo and fleeing to England, forcing the release of Not Available in the interim.
Despite this, the re-issue was fairly successful in its own terms, topping the Record World New Wave Top 20 of June 17th 1978.
Track listing
Satisfaction (Jagger/Richards) (4:32)
Loser ≅ Weed (2:11)
Release History
Year
Label
Color
1976
Ralph Records
Black
1978
Yellow
2015
Superior Viaduct
Purple
See also
Further Reading
Satisfaction at The Residents Historical
Community content is available under
CC-BY-SA
unless otherwise noted.