Barry "Schwump" Schwam (January 7th 1950 - June 7th 2020) was an American musician, actor and former disc jockey, who was the first artist other than The Residents to be released on Ralph Records, with his single "Aphids In The Hall" in 1976.
For many years this was his only release, until 2001 when he resurfaced and began a belated recording career which lasted another two decades, until his death on June 7th 2020.[1]
In the mid-1970s, one of The Residents travelled to Portland, Oregon, where KBOO-FM had been one of the few stations to pick up on their releases and give them airplay. One of the disc jockeys who had been playing The Residents on his show was Barry Schwam, who went by the name Schwump.
Schwump had attracted The Residents' attention when they heard about a "frog opera" which he had broadcast on his show. They invited Schwump to San Francisco to record an album for their record label, Ralph Records, in 1976.
The result was a 7" single called "Aphids In The Hall", produced by The Residents, with the group performing the backing instrumentation. The group also recorded a number of other tracks with Schwump during these sessions which he was unsatisfied with; these additional recordings have nevertheless circulated among collectors.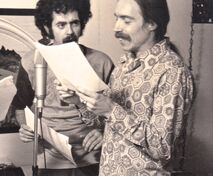 Schwump also assisted The Residents during this visit by appearing in their film Vileness Fats, in the role of a blackface midget singing Al Jolson's "Mammy".
According to Ian Shirley in his book Meet The Residents!, Schwump was worried about the single being pirated, so he insisted that the initial release be limited to 200 copies. However, when The Residents complied with his wishes, Schwump then complained about them not pressing enough copies to give him the exposure he wanted. After this, The Residents did not hear from Schwump until 1993, when he sent in the "Please send me more information about Ralph Records" card from his personal copy of the "Aphids In The Hall" single.
After The Residents
In 2001 Schwump re-recorded the three songs from the "Aphids In The Hall" single, and released the new versions on cassette. This was the beginning of a belated and self-managed recording career by Schwump, which would continue for almost another two decades. The original "Aphids In The Hall" single was reissued for the first time in 2018 for its 42nd anniversary.
Barry "Schwump" Schwam died on June 7th 2020.[1] His final release was a newly recorded version of The Frog Opera which had first captivated The Residents in the mid-1970s.
Discography
Albums
Singles / EPs
See also
External links and references
AN INTERVIEW: RANDY SCHWAM TALKS ABOUT HIS MEETING WITH THE RESIDENTS (VILENESS FATS ERA):
P: Please tell us about the early years of SCHWUMP. I understand you were a musician relatively early on, and performed as a street musician. S: I started in high school with a band known as "The Acid Indigestion." But we were hardly street musicians, just a bunch of crazy kids from the suburbs. Among the instrumentation for that band was me on vocals and harmonica, one guy playing a bug sprayer; another bouncing a basketball; and still another playing a bowl of "Rice Krispies" (Snap, crackle, pop.) Later on in college, I did a one-man band act, with a set of trap drums and various percussion instruments. I played college concerts and parties. I was actually approached by a band member of Frank Zappa's The Mother's of Invention to come and meet Frank, but I was too paranoid to do it. I continued playing my drum act for many years until I discovered the autoharp in the mid 70's. Up until then, I composed music while playing the drums. I wouldn't say I was ever really a street musician though.
P: According to the Residents' website (www.Residents.com): "In the mid-70s one of The Residents traveled to Portland, Oregon, to meet an unusual radio show host by the name of Schwump. He had apparently attracted the band's attention when they heard about his all-frog opera, which he'd broadcast on his show." Is this true? Please tell us about how it came to pass that you met the Residents. S: I was working on a musical, "Adventures of the Titanic Toad," which was to feature a lot of Schwump songs based on a story about a toad named Tad, who left his home in search of adventure. But the Residents had not heard this or of me until a fellow named Bill Reinhardt introduced us. Bill was the program director at KBOO FM in Portland; the station where I had my weekly radio show. Bill used to play the Residents on his own show, and had the brilliant idea that The Residents and Schwump should meet; and so he arranged it all.
P: I know about the autoharp, how do you play the frog? S: The frog will actually be a toad, and it will be an actor dressed in a toad costume. This will be a musical stage play.
P: According to legend, the "First Four" unreleased Residents recordings were broadcast on KBOO, were you and/or Bill responsible for this? S: It would have been Bill Reinhardt.
P: There's a promotional photo of you from the production of the Residents movie "Vileness Fats." Could you tell us about your role(s) in the film? S: I only had one role as I recall before the film was cancelled. I was a midget miner in some underground cavern, surrounded by giant balloons. I was in blackface, in a striped prisoner-looking outfit, and wore a miners' lantern on my head. The set took up a huge space in The Residents studios/living quarters, I think was in the basement area.
P: It's been said that you performed "Mammy" in Vileness Fats, is this true? S: I vaguely recall singing "Mammy" but I don't think it made it to the film. It may have been in a rehearsal.
P: Do you remember any of your lines outside of this? S: I don't recall having any lines.
P: According to the Cryptic Guide to the Residents, the 3-song "Aphids in the Hall" single was culled from an 8-song tape. Could you tell us about the circumstances of this recording? S: The basic tracks to recordings were made by only one of the Residents and myself. Everything else was added later. We made the three songs from the "Aphids' single, in one afternoon, and then worked on the other songs throughout the week. The idea was to produce a full album. I can recall two of the other songs.. one was a sad love ballad that I wrote, that the Residents later pumped up into a loud rock song, with Snakefinger doing the lead. Another song was a not-so-great version of "God Bless America." I don't know how that came to be, but it was not good, and I am glad it was never released. The album cover was the still of me in blackface from "Vileness Fats."
P: Will we EVER get to hear those other 5 songs? S: I personally hope these songs are not heard, as I don't feel they are of neither Residents, nor Schwump quality.
P: I think it's unfortunate that you don't want that material released, especially since Snakefinger is sadly gone. Is it that the material is substandard, or that it's "dark" as you've mentioned? S: I didn't like how I personally butchered "God Bless America." I was ashamed of it, actually. And I didn't like the Residents' version of my song, "Singer of Sad Songs." It is a slow, sad ballad. The Residents cranked it up so much that it lost its' whole feeling. So on that one I am coming from the point of view of an artist whose material has been altered drastically by somebody else. This was not the case with any of the songs on the Aphids single. I think the post production by the Residents in those songs was masterful!