Philip Charles Lithman (17 June 1949 – 1 July 1987), who performed under the stage name Snakefinger, was an English musician, singer and songwriter.
A multi-instrumentalist, he was best known for his guitar and violin work and his many collaborations with The Residents.
Lithman enjoyed a solo career on Ralph Records beginning in the late 1970s and ending with his death from a heart attack in 1987.
Biography
Early Years (1949-1969)
Philip Charles Lithman was born in Tooting, South London, England. In 1962 he decided he wanted to be a rock musician, and shortly afterwards met with Martin Stone, with whom he formed a group with called Junior's Blues. This band however, never released any recordings and the two went their separate ways.[1]
"Blues was my guiding light. It's what I love and what I still listen to. People back in the 50s and 60s, James Brown and, yknow, the old blues people. That's where I got my main musical influences."
- Snakefinger, 1979[2]
Residents Uninc. (1970-1972)
In 1970 Lithman met Margaret Swaton, who was vacating in Europe at the time. The two spent time together, and Swaton invited him to visit her in America and meet her friends. Lithman visited her in the summer of 1971, and met Residents, Uninc. They started collaborating, and recorded the demo album B.S together.
During the demo's recording, the group noted that his visa was about to expire, and so to combat this staged his wedding. The wedding band was Residents Uninc, with Phillip on violin. During the event a photo of him playing was taken by a member of Uninc, when the group saw the photo afterwards, they thought that his finger looked like a snake. As such, they started calling him Snakefinger.[3]
Despite the wedding party, the marriage was never made official. Lithman returned to England a couple of months later, and around the same time Residents, Uninc. left their apartment in San Mateo for a much larger space on Sycamore Street in San Francisco. Lithman made another return to America briefly in late 1972, performing with Residents, Uninc. at Chris's Party in April, before moving back to England once again.
Chilli Willi & The Red Hot Peppers (1972 - 1975)
Upon returning, Lithman, now dubbed Snakefinger, reunited with Martin Stone, who had spent the majority of the 1960s playing in unsuccessful bands and had nearly given up on music as a result. With the two together again Stone felt inspired to write and play with Phil. The duo would rehearse frequently, and perform covers of Hank Williams songs. Lithman was initially against the idea of forming a band, wanting to remain a duo, but Stone soon convinced him to expand their lineup into that of a full group. They were signed to the newly formed Revelation Records, which existed to recoup money that the owners had lost by hosting the free festival Glastonbury '71.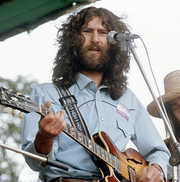 The group released their first album, Kings Of The Robot Rhythm in November of 1972, and made their debut performance on December 24th.
Chilli Willi & The Red Hot Peppers were more theatrical than your typical blue grass band of the time, with shows involving masks, as well as readings from Lord of The Rings, which the band members would follow up by ripping and eating pages of.
As 1973 continued, the band recorded what was intended to be their second album at Chalk Farm Studios in London, however it became more and more apparent that Revelation Records were going bankrupt fast, and so the band left the label, and moved to the Mooncrest Records subdivision of Charisma in an attempt to release the album with them. Mooncrest refused to release the already recorded material, and insisted that the band re-record what they had with a more well known producer. Eventually Michael Nesmith was chosen, and sessions with him were began in March of 1974. Working with Nesmith proved to be a problem, after an argument had broken out on their first day, and he quit. Following this, Ron Nevison was brought on to act as replacement in July of 1974. Nevison again proved difficult to work with, as he was often more more focused on watching the World Cup or Tennis during sessions than he was on producing the band. Despite this, the album finally was finished.
Whilst the first album had been mostly co-written by Lithman and Stone, Bongos Over Balham saw Lithman taking the position of head writer. Something he wouldn't do again until his final studio album, Night Of Desirable Objects.
The album was released in November of 1974, and a tour was booked as a result. It lasted until February 28th 1975, after which, the band broke up.[1]
Lithman had spent the majority of 1975 living a private life in Los Angeles, essentially retired from the music industry. In his mind was one major conundrum; what does a musician who's played rock for over a decade do when he grows to hate the genre? He played a little with Little Feat in jam sessions.[4] In Spring of 1976, he had decided to return full to the music industry, and sent a tape demo of a song called 'Hollywood Blues' to Warner Brothers,[5] only to be rejected.
Collaborations with The Residents (1976 - 1981)
Following his rejection from Warner Brothers, Snakefinger re-united with his old friends Residents Uninc, who had now reformed as The Residents. The Residents were excited to have Lithman back. They had previously wanted to recorded with him for their Third Reich 'n Roll album, but were unable due to his commitments to Chili Willi. To make up for this, they recorded a cover of 'Satisfaction' together in a similar style to the album. He then joined them at their debut live performance, 'The Mummy Show', that same month, after which he started working with them to finish their album, Fingerprince, adding slick guitar riffs for certain songs, and backing vocals for others. The following year he helped them record their Duck Stab EP, and even co-wrote a song with them. This lead to them signing him to their record label, Ralph Records, as well as co-writing and producing his debut single, 'The Spot', in 1978. The Spot saw Lithman take a more electronic approach, when compared to his work with The Red Hot Peppers. That same year he recorded 'Buster & Glen' with The Residents, the eventual second side to their Duck Stab / Buster & Glen LP.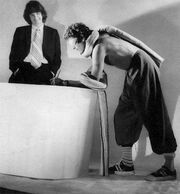 In 1979 The Residents & Lithman co-wrote and produced Snakefinger's first solo album, Chewing Hides The Sound, followed by Greener Postures in 1980. At this same time Lithman would collaborate on The Residents' solo material whenever he could, even being co-credited as the lead artist on their 1980 Goosebump suite.
Lithman had toured extensively to promote these albums, but when touring Greener Posutres in Australia, 1981, Lithman would suffer a heart attack back stage, and was hospitalized for three months. As a result the tour had to be cancelled, and it wouldn't be months until he would perform live again.[6] When he returned to America, The Residents introduced him to Eric Drew Feldman. The group wanted Lithman to become more independent, and knew that Feldman could help him become that. Together they co-produced 'Manual of Errors'. Manual was Snakefinger's only solo studio album not to feature The Residents as his backing band, and as such, boasts a more dynamic sound.
Extensive Touring & The Vestal Virgins (1983 - 1987)
Following the Manual of Errors tour in 1982, Lithman decided he wanted to return to his roots, and as such began his History Of Blues tour. This show would be entirely comprised of blues standards presented in chronological order, with two main sets, the first being a largely solo set involving him and acoustic guitar, followed by a big band set involving an extensive backing band. A live album from this tour would be his first live album, as well as his last solo album released in his lifetime.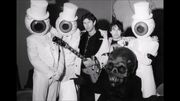 The following year Lithman was invited to perform with The Residents on their Japanese 'Eyeball Show' mini tour. This would be the first time that Snakefinger had played with The Residents in concert since his debut performance in 1979. The Eyeball Show eventually evolved into the 13th Anniversary Show, and would tour across the world for most of 1986. In between the legs of the 13th Anniversary show, Lithman would tour with his own newly formed band, The Vestal Virgins, at the same time as working on their debut album. It was released in March of 1987.
Death
On the first date of The Vestal Vrigin's European Night tour, Snakefinger Snakefinger was found dead in a guestroom at The Posthof Club, Linz, Austria: Lithman had suffered a fatal heart attack. On the day of his death, 1 July 1987, his single, "There's No Justice in Life", was released.
Legacy
Snakefinger's death was followed by understandable period of mourning from The Residents and all those who knew him. As he had died in Austria and been buried in England, the group struggled to process the loss, and so to help with the mourning process, they produced The Snakey Wake, a musical wake for their lost friend, paying tribute to him and his life.
The band's 1992 'Our Finest Flowers' album pays tribute to several of Snakefinger's songs. Mr. Lonely, = Man In The Dark Sedan, Perfect Goat, = Golden Goat and Jungle Bunny & Kick a Picnic, = Picnic In The Jungle. Following his death, The Residents hadn't performed any of the songs co-written with him live, until the 2001 Icky Flix tour, when they performed Kick a Picnic, which they had recently re-recorded for the Icky Flix DVD. They then performed Golden Goat during the Demons Dance Alone tour (and even mention him in the altered lyrics to Mr. Wonderful), then later Eva's Warning and Golden Goat for The Way We Were.
In 2006, they released a remix of Jungle Bunny to their MySpace page.
As part of Randy Rose's debut solo performance, he played both tracks from Snakefinger's 'Spot' single, but it wouldn't be until the 2013 Wonder of Weird tour when the whole band would attempt another Snakefinger song, where they performed a shortened version of Picnic In The Jungle, and The Man In The Dark Sedan. In 2014, they would release a remix of Picnic In The Jungle. Most recently, the 'In Between Dreams' tour featured a shortened version of Picnic In The Jungle during the first leg, but was dropped on later ones.
Discography
Albums
As Lead Artist
Chilli Willi And The Red Hot Peppers

-

Bongos Over Balham

(1974)
Chewing Hides The Sound (1979)
Greener Postures (1980)
Manual of Errors (1982)

Snakefinger's History Of The Blues: Live In Europe

(1984)

Snakefinger's Vestal Virgins

-

Live In Chicago

(1986)

Snakefinger's Vestal Virgins

-

Night of Desirable Objects

(1987)
Collaborations
Chilli Willi And The Red Hot Peppers

-

Kings of the Robot Rhythm

(1972, Co-Writer, Vocals, Guitar, Dobro, Steel Guitar, Fiddle, Piano, VCS3 Synthesizer , Mellotron, & Banjolele)
The Residents - Duck Stab / Buster & Glen (1978, Co-Writer)
The Residents - Eskimo (1979)
The Residents - Commercial Album (1980)
KU01 - Ralph Radio Special (1981, Interviewee)
Mutants - Fun Terminal (1982, Co-Producer)

Club Foot Orchestra

‎-

Wild Beasts

(1986, Guitar & Co-Produer)
The Residents - 13th Anniversary Show - Live In Japan (1986, Co-Writer)
The Residents - Live In The USA! 13th Anniversary Tour (1986, Co-Writer)
The Residents - 13th Anniversary Show - Live In Holland (1987, Guitar, Writer)
Guest Appearances
Singles / EPs
As Lead Artist
Chilli Willi And The Red Hot Peppers

- Breathe A Little / Friday Song (1975, writer)
The Spot / Smelly Tongues (1978)
I Gave Myself To You / (This Is Not A) Disco Song (1986)

Snakefinger's Vestal Virgins

-

There's No Justice In Life / Move

(1987)
Collaborations
Guest Appearances
Compilations
As Lead Artist
Collaborations
10 Years In 20 Minutes

(1984)
Guest Appearances
The Residents - Please No Not Steal It! (1979, Guitar on 'You Yesyesyes', 'The Spot', 'Blue Rosebuds' & 'The Electrocutioner', Vocals on 'The Spot', 'Constantinople' & 'The Electrocutioner', Co-Writer on 'The Spot')
Methods Of Dance ‎(1981, Co-Producer on '

The Model

')
Frank Johnson's Favorites (1981, On 'Smelly Tongues' & 'Womb To Worm', writer on 'Womb To Worm')

Savoy Sound Wave Goodbye

(1981 Re-Mix Engineer on '

Culprit / Victim

', Writer on '

Culprit

')
Best Of Ralph (1982, on 'The Model', 'Man In The Dark Sedan', 'The Spot' & 'Magic And Ecstasy', Co-Writer on 'Man In The Dark Sedan', 'The Spot' & 'Sinister Exaggerator')
Ralph Video (1983, on 'The Man In The Dark Sedan')
The Residents - Residue Of The Residents (1983, guitar on 'Open Up')

Ralph Before '84: Volume II

(1984, Co-Writer on 'Eva's Warning', Writer on 'Yeti: What Are You?')
The Residents / Various - 17x7 The Ralph Singles (1984, on 'The Spot', 'The Man In The Dark Sedan', 'What Wilbur?', 'The Model', 'Here Comes The Bums', & 'Trashing All The Loves Of History')
The Residents - Heaven? (1986, guitar on 'Serenade For Missy', Assorted Sounds on 'Twinkle')
The Residents - Hell! (1986, vocals on 'Kamakazi Lady', assorted sounds on 'Farmers' Violin & Co-Writing on 'Sinister Exaggerator' & guitar on 'Satisfaction')
Passed Normal (1986, on 'Live In Urbana')
Passed Normal The Cassette (The Companion To Passed Normal The Record) (1986, on 'Beatnick Party')
Potatoes (A Collection Of Folk Songs From Ralph Records) (1987, Writer & Co-Producer on 'The Ballad Of Sawney Bean / Sawney's Death Dance')
Posthumous Discography
Albums
As Lead Artist
Live In Melbourne 1981

(2015, recorded 1981)
Collaborations
Guest Appearances
EPS & Singles
As Lead Artist
Snakefinger's History Of The Blues - Bonus EP - Solo (2013, recorded 1983)
Snakefinger's History Of The Blues - Bonus EP - Combo (2013, recorded 1983)
Collaborations
Guest Appearances
A Compendium Preview Guide To Eyesore: A Stab At The Residents

(1996, guitar & voice on 'Smelly Tongues', recorded 1978)
Compilations
As Lead Artist
Collaborations
Guest Appearances
Sept. 1987

(1987, on 'Againstthegrain', recorded 1978 - 1982)
Okt. 1987 (1987, on 'Int. M. Snakefinger')
Boudisque Compilation (MIDEM '88) (1988, on '

Kill The Great Raven

')

Beets (A

Collection Of Jazz Songs)

(1990, writing & co-production on 'Reptology', recorded 1986-1987)
The Residents - Daydream B Liver (1991, on 'Before There Was Snakefinger There Was P.C. Lithman - Before There Was The Un-Named Band There Was A Band With No Name - Before There Was Time And Space There Was N. Senada', recorded 1971)
Folk Heritage (1991, Co-Arrangement on 'Fiddle Diddle', recorded 1974)

Passed Normal Vol. 4

(1991, Vocals on '

Save Me From D

ali

', Guitar on '

Save Me From Dali

' & '8 1/4', recorded 1985)
Naughty Rhythms: The Best Of Pub Rock (1996, Writer of 'Desert Island Woman', 'Breathe A Little' & 'Friday Song', recorded 1974)
Eyesore: A Stab At The Residents (1996, voice & guitar on 'Smelly Tongues', recorded 1978)
The Residents - Our Tired, Our Poor, Our Huddled Masses (1997, Musician on 'Moisture', 'Eskimo Concentrate', 'Constantinople', 'Blue Rosebuds', 'Lizard Lady', 'Hello Skinny', 'Fingerprince Concentrate', 'Where Is She?', 'Jailhouse Rock', 'Satisfaction' & 'Hallowed Be Thy Ween', recorded 1971 - 1980)
The Residents ‎- Diskomo 2000 (2000, performance on 'Goosebump')

Frog Ta

il V

ol 1

(2000, on 'The Garden Of Earthly Delights', 'There's No Justice In Life', 'Eva's Warning' & 'There's No Justice In Life', recorded 1982 - 1986)
Penelope Houston ‎- Eighteen Stories Down (2003, producer on 'Voices', recorded 1987)
Kraftwerk Kover Kollektion 2 (2006, on 'The Model', recorded 1979)
Mingo L'Indien Présente: Vol. 3

(2005, on '

Living In Vain

', recorded 1980)

The Post Punk Singles Volume 6 'Electric Pop'

(2006, on '

The Model

' & '

Talkin' In The Town

', recorded 1979)
Rough Trade Shops: Counter Culture 1976 (2007, lead guitar on 'Satisfaction', recorded 1976)
Nouvelle Vague ‎- New Wave (2007, on '

The Model

', recorded 1979)
For Your Consideration... New & Upcoming On LTM (2008, on '8¼, recorded 1987)
Moving Soundtracks (2008, on '8 1/4', recorded 1987
Mixed Bizness ‎- Coversions 1.0 (2009, on '

The Model

', recorded 1979)
DJ Rat-Ward - Transistor Heart III (2010, on '

Magic And Ecstasy

', recorded 1979)
Adaptations From The Moon: Tuxedomooning The World (Second Edition) (2012, on 'Jinx (Live 1981)')
Th* R*sidents - D*ck S*ab 35th Anniversary (2013, on 'Semolina', recorded 1986)
Methods Of Dance - Electronica & Leftfield '73 - '87 (2013, on '

The

Model

', recorded 1979)
Change The Beat (The Celluloid Records Story 1979 - 1987) (2013, on '

Living In Vain

', recorded 1980)
Alex Egan ‎- Left Alone Mix Series #7 (2016, on 'Smelly Tongues', recorded 1979)
Halloween 2018 (2018, on '

Magic And Ecstacy

', recorded 1979)
Across The Great Divide Getting It Together In The Country 1968-74 (2019, writer of 'Desert Island Woman', recorded 1974)

Secret Records Compilation 2019 1/2

(2019, on '

What Wilbur?

', recorded 1981)
The Residents - Mole Box (2019, on 'The Tunes of Two Cities', recorded 1982)
Surrender To The Rhythm The London Pub Rock Scene Of The Seventies (2020, writer of 'e Get Along)', recorded 1974
B.S (1971, released 2019)
Satisfaction (1976, Guitar)
Fingerprince (1977, 'Guitar on 'You Yesyesyes' & '

Tourniquet Of Roses

', Vocals on '

Home Age Conversations

')
Duck Stab (1978, 'Sinister Exaggerator' co-written by)
The Spot (1978)
Duck Stab / Buster & Glen (1978)
Please Do Not Steal It! (1979, on 'You YesYesYes, The Spot, Constantinople, Laughing Song, Blue Rosebuds, The Electrocutioner)
What Wilbur? (1979, co-written & co-produced with The Residents)
Chewing HIdes The Sound (1979, co-written & co-produced with The Residents)
Eskimo (1979)
Buy Or Die 1980 (1980, '

Here Comes The Bums

' co-written by)
Diskomo / Goosebump (1980, performance on 'Goosebump')
The Model ‎(1980, co-written & co-produced with The Residents)
The Man In The Dark Sedan (1980, co-written & co-produced with The Residents)
Greener Postures (1980, co-written & co-produced with The Residents)
Commercial Album (1980)
Frank Johnson's Favorites (1981, 'Smelly Tongues' Written by The Residents)
Methods Of Dance (1981, The Model co-produced with The Residents)

Savoy Sound Wave Goodbye

(1981,

Culprit / Victim

co-written with The Residents)
Best Of Ralph (1982, '

Man In The Dark Sedan

', '

The Spot

' & 'Sinister Exaggerator' co-written by Snakefinger & The Residents)
Manual Of Errors (1982, '

Bring Back Reality

' & 'Eva's Warning' Co-written with The Residents)
The Tunes Of Two Cities (1982, Guitar on '

Serenade For Missy

', 'Smack Your Lips; & '

Smokebeams

')
Against The Grain (1983)
Residue Of The Residents (1983, Guitar on '

Open Up

')
Title In Limbo (1983, Guitar on '

Sitting on The Sand

' & '

Extra: Version

', Violin on '

Africa Tree

')

Ralph Before '84: Volume II

(1984, 'Eva's Warning' co-written with The Residents)
Heaven? (1986, on '

Serenade For Missy

' & '

Twinkle

')
Hell! (1986, on 'Kamakazi Lady', '

Farmers

', 'Sinister Exaggerator', 'Satisfaction')

Live In Chicago

(1986, songs co-written with The Residents)
Stars & Hank Forever! (1986, Slide Guitar on '

Hey Good Lookin

'')
Posthumous
The Third Reich 'N' Roll (1987, recorded 1976, guitar solo on 'Satisfaction')
13th Anniversary Show - Live In Holland (1987, recorded 1986)
A Collection Of Songs Written And Produced With The Residents (1988, recorded 1980)
Diskomo - Live In San Francisco (1988, recorded 1987)
Daydream B-Liver (1991, recorded 1971, on '

A Live Radio Broadcast

', 'The Boarding House' & 'King Kong')
Philip Charles Lithman AKA Snakefinger 1949 - 1987 (1992, recorded 1987)
Uncle Willie's Highly Opinionated Guide To The Residents (1993, recorded 1986)
UWEB Box Set (1995, recorded 1987)
Our Tired, Our Poor, Our Huddled Masses (1997, on 'Moisture', '

Eskimo Concentrate

', 'Constantinople', 'Blue Rosebuds', 'Lizard Lady'. 'Hello Skinny', '

Fingerprince Concentrate

', 'Where Is She?', 'Jailhouse Rock', 'Satisfaction', 'Hallowed Be Thy Ween')
Diskomo 2000 (2000, recorded 1980, on 'Goosebump'
Petting Zoo (2002, recorded 1980)
Live! ...On The Outskirts (2002, on "Interview (Excerpt)")
Kettles Of Fish On The Outskirts Of Town (2003, 'Picnic In The Jungle' Co-Writer)
Eskimo DVD (2003, recorded 1979)
Golden Goat (2003, Co-written by)
Commercial Album DVD (2004, recorded 1980)
Oh Mummy! Oh Daddy! Can't You See That It's True, What The Beatles Did To Me I Love Lucy Did To You (2010, recorded 1976)
13th Anniversary Show - Ritz NY - Jan 16, 1986 (2010, recorded 1986)
D*ck S*ab 35th Anniversary ‎(2012, recorded 1986, on 'Semolina')
The Delta Nudes - Greatest Hiss (2013, recorded 1971)

Change The Beat (The Celluloid Records Story 1979 - 1987)

(2013, '

Living In Vain

' co-produced and co-written by)
The 13th Anniversary Show - Cleveland (2014, recorded 1986)
Picnic In The Jungle (2014, recorded 1986)

Live In Melbourne 1981

(2015, recorded 1981, songs co-written with The Residents)
The Residents Present The Delta Nudes (2016, recorded 1971)

Who Do You Love (B-Sides & Rarities)

(2020, recorded 1982)
Mole Box (2020, recorded 1982)
Icky Flix (The Original Soundtrack Recording) (2020, recorded 2001, 'Kick A Picnic' co-written by)
See also
External links and references