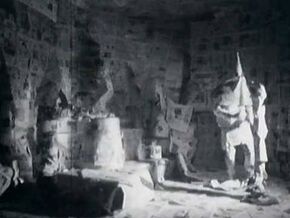 Since the start of their career, The Residents have been experimenting with video as well as sound, beginning with their abandoned feature film project Vileness Fats which was shot largely on 1/4" open reel video tape between 1972 to 1976.
In 1977 they pioneered the medium which would later become known as music video, with the airing of their short film The Third Reich 'n Roll. Other short films such as Hello Skinny and One Minute Movies were in frequent rotation on MTV in the early years of its existence.
Since 1984 the group have built an impressive catalog of home video releases featuring their music videos, video and animation experiments, live shows, and documentaries.
In the 21st century The Residents have continued to pioneer new media, becoming early adopters of YouTube and creating a number of ongoing narrative video series and standalone short clips to promote a range of projects.
Feature films
Unproduced
Produced
Music videos
Documentaries
Home video
VHS
Laserdisc
DVD
Internet videos
Series
Live performances
Live streaming events
The Bunny Boy Room Twitch Stream

(2019)
Standalone videos
See also
External links and references