The Tunes of Two Cities
is a 1982 album by
The Residents
. Part two of
The Mole Trilogy
, the album collects and contrasts examples of the music of the Mole and Chub cultures. The tracks alternate between the fluffy, Art Deco music of the superficial Chubs and the dark, tribal music of the Moles.
The Tunes of Two Cities was the first album The Residents made featuring their new toy, the EM-U Emulator. The Emulator was the first commercial sampler and The Residents were among the first to buy one (theirs was #00005 off the assembly line). That Emulator provides most of the instrumental sounds on the album, with the exception of the guest musician's contributions: Snakefinger's guitar work and Norman Salant's saxophone playing, both of which appear in "Serenade for Missy".
The band combined the story and music from The Tunes of Two Cities with the music of the first album of the trilogy, Mark of the Mole, in 1983 to create their Mole Show performance tour, which became the band's biggest financial disaster, and ultimately led to the cancellation of the Mole Trilogy altogether after the release of The Big Bubble in 1985.
Storyline
Edit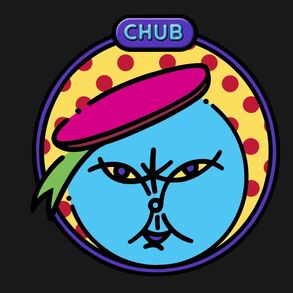 The Moles are a tribal, hard-working society who worship a dark god called "The Evil Disposer". The music of their songs features the use of invented instruments and languages, as did The Residents' other tribal culture album, Eskimo.
Chubs are only concerned with leisure and want nothing to do with real-world problems. To emphasize this, many of the Chub tracks are mutated covers of escapist big band songs from the 1920s and 1930s. For example, "Mousetrap" and "Happy Home" cover Stan Kenton's "Eager Beaver" and "Machito" respectively, and "Smack Your Lips (Clap Your Teeth)" is a version of "In the Mood".
The Mole tracks feature dark, primitive vocal lines made up of chants and prayers, while the Chubs' music is entirely instrumental. The only exception is the last track, "Happy Home" (sung by Nessie Lessons instead of the growling Residential lead singer found in the Mole tracks). The song is billed as an "excerpt from Act II of Innisfree", though no clue is given as to what that might mean. One theory is that Innisfree is a Chub musical about Moles roughly analogous to George Gershwin's Porgy & Bess (a musical by a white American about black slaves).
Track listing
Edit
Liner notes
Edit
The Tunes of Two Cities is the second part of The Residents' Mole Trilogy which began with Mark of the Mole. While the first part is an elaborately told story of political and social struggle, Two Cities is a documentation of the music of these two cultures as they were before fate threw them into turmoil.
The tracks on this disc alternate between societies. First one culture... then the other... making its point, not just by what is said... but by the listener's willingness ot understand the globe wrenching power of "difference".
See also
Edit
Community content is available under
CC-BY-SA
unless otherwise noted.