The Ugly Grey Theater ("Where All The World Is Science Fiction") was a proposal by The Cryptic Corporation in 1977 for a science fiction and fantasy-themed film theater at 1501 Howard Street, San Francisco. The Cryptics' friends and collaborators Ant Farm assisted with architectural designs for the proposed theatre.
Despite the Cryptics developing a detailed promotional campaign (including leaflets, business cards and balloons) to get the neighborhood to support the concept, the idea was abandoned entirely when the neighborhood instead "revolted against the idea"[1], under the assumption that the intended purpose for the building was to use it as a gay porn theater.
History
The Ugly Grey Theater was conceived by The Cryptic Corporation in 1977, following the abandonment of their feature film project Vileness Fats, as another way for the company to expand into the film industry (and make money, since The Residents had not gained much notice at this point, and as a result Ralph Records was not making any significant profit).
The Cryptics had purchased the small Howard Street movie house with the intention that it would primarily screen science-fiction and fantasy films, as well as "what is now the Marvel and DC worlds, animation, Lords of Rings, Harry Potters, horror, the surreal, etc."[1] The Ugly Grey Theater's motto was "Where All The World Is Science Fiction".
The Cryptic Corporation got as far as creating a campaign of leaflets, balloons and business cards to promote the idea among the residents of the area, and hired their friends and collaborators, art collective Ant Farm to supply architectural designs. However, the neighborhood became convinced that the Cryptics actually intended to open a gay porn theater, and petitioned the municipal government to refuse the permit, leading the Cryptics to abandon the idea altogether.
The Residents' releases were finally beginning to generate attention at this time with the success of the single "Satisfaction", so the Cryptics focused their attention primarily on the operation of Ralph Records once again.
Legacy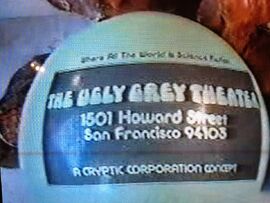 A number of low-resolution images of The Ugly Grey Theater's promotional leaflet, business card and balloons have circulated on the Internet since the earliest days of The Residents' online fandom.
The story of the failed theater was detailed by former President of The Cryptic Corporation Hardy Fox in his June 2017 Hacienda Bridge email newsletter.
See also
External links and references