The Residents' Ultimate Box Set
(or
UBS
) is a "box set" collection of the first editions of all releases by
The Residents
up to 2012, housed in a 28 cubic foot refrigerator.
First announced in December 2012 via a YouTube infomercial starring Randy Rose, the box set was available for the princely sum of $100,000. To date, only two have been produced.
History
To celebrate the 40th anniversary of their debut release, The Residents dreamed up what may be the most ambitious product ever: The Residents' Ultimate Box Set, containing first editions of every release by The Residents up to that point as well as additional merchandise (including an original eyeball mask, or optional skull).
The UBS was announced via a YouTube infomercial video in December of 2012, featuring Randy Rose in a Santa Claus suit (the same he would later wear during the Wonder of Weird tour) offering the box for the princely sum of $100,000.
Sales
As one might imagine, the high price tag severely limited sales. Many fans assumed it was a joke, or an artistic commentary on consumerism. The Cryptic Corporation insisted that the UBS was intended as a legitimate product, aimed towards a high art market.
In the end, only two box sets were produced. One was donated to the Museum of Modern Art in New York City, whereas the other was purchased by a fan in Indiana (known as "Tripmonster")[1], who made a $10,000 deposit before his funds dried up and he could make no further payments towards the outstanding amount.
Tripmonster has told the Cryptics that he intends to pay them the outstanding amount whenever he can, and they are taking him at his word. Tripmonster's UBS included the "Mr. Green" eyeball mask.[1]
Contents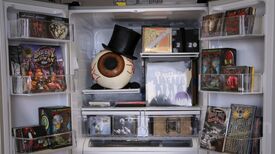 The
Ultimate Box Set
contains over one hundred first editions of all the group's albums and singles as well as a real
eyeball mask
(with the option of a
skull
on a first come, first served basis) and additional merchandise, all housed in a 28 cubic foot refrigerator.
Mystery Box
Announced in the infomercial alongside the Ultimate Box Set was a "Mystery Box", available for a much larger sum of $5,000,000.
The Mystery Box was never purchased, and its contents remain unknown.
See also
External links and references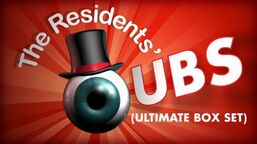 ↑ 1.0 1.1 Josh Keppel, "The Residents' $100,000 'Ultimate Box Set' Sold and Delivered", NBC Bay Area News, October 22nd 2013
Community content is available under
CC-BY-SA
unless otherwise noted.