The Sandman Will Keep You Awake - The Loop
Play Sound
WB:RMX is a remix album by The Residents, derived from their then-unreleased 1971 demo tape The W***** B*** Album. It was first released February 22nd 2004 in Japan through Bomba Records, with American and European releases following at later dates through The Cryptic Corporation and Euro Ralph.
History
Background
Since The Residents' inception, the group have loved to tease their history out to fans. Ralph would fill press releases with references to N. Senada, Santa Dog, Delta Nudes, and four album-length demo tapes that the group were involved in recording. One such tape, The W***** B*** Album, proved itself to be particularly popular among fans, who begged and campaigned for the tape's release on a near-constant basis. Copies of it had been leaked by Bill Reinhardt and eventually became commonplace on internet file-sharing programs, which only made people beg for the release moreso.
Eventually, 33 years after the tape was shelved, The Residents caved in. On January 1st, 2004, Big Brother announced that the album would finally be released, with some necessary remixing done by the band.
The original tape consisted of guitar-based freak out jams, which, while appropriate to be privately shared amongst hippies in the early 1970s, wasn't in keeping with the group's current image or the times. The Residents re-edited the entire album and overdubbed it with dance beats and modern synthesisers, creating a bizarre dance album similar to Diskomo and its remix.
Un-RMX version
Starting in 2012, The Residents began to release snippets of the original unremixed version of WB, with various tracks featuring on the compilation album Greatest Hiss, ultimately leading up to a limited edition vinyl release in 2018 and a CD version the following year.
Release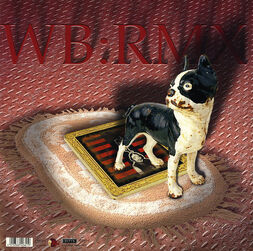 WB:RMX was released on February 22nd, 2004 through Bomba Records in Japan[1], while the Euro Ralph pressings followed released on the 23rd of March. The Cryptic Corporation's American pressing was released at a later date.
The Euro Ralph pressings included a CD edition, a single LP edition, and a deluxe LP edition with an additional 12" single containing an alternate remix of "Baby Skeletons and Dogs" and "Bijou", a track which was exclusive to the 12" single[2] until its reissue in 2007 on the compilation album Best Left Unspoken... Volume Two. Bijou features anonymous guitar work by Nolan Cook.
Track listing
Baby Skeletons and Dogs (3:22)

Bop Bop (Shoobop Bop)

(1:43)

A Merican Fag

(2:45)

Oh Mummy Oh Daddy

(4:03)

Peace and Love

(4:33)

Christmas Morning Foto

(1:33)
Maggie's Farm (Dylan) (2:47)

Snot and Feces Live at the Grunt Festival

(1:48)

Sweet Meat

(3:23)

Ohm Is Where The Art Is

(3:41)

Sell American

(1:44)

Love Theme From a Major Motion Picture

(Whitaker, uncredited) (3:16)

Pie In The Sky

(Tangney, uncredited) (1:56)

Art, The White Elephant

(4:46)
Bonus 12" single (Euro Ralph deluxe vinyl edition only)
Baby Skeletons & Dogs (2004 Remix) (6:11)

Bijou

(8:31)
Credits
Quotes on the Subject
Back in the early '70's The Residents weren't organizing material into albums, they just did stuff, usually experimental fragments. One day they took some of these fragments and strung them together and sent them off to Warner Bros as a demo where it was ill received as commercial. The Residents being restless re-inventors, rebuilt the demo a few times, recording new material and redoing older material to tighten it up. However they never got it to be what they thought it should be and set it aside, unfinished, to start on a new project.
So the work sat around. At some point a villainous thief stole a bunch of recordings from the studio, some version of the demo was taken and then sold for personal gain and leaked onto the internet. The original fragments remained untouched however.
Around 2002-03 The Residents were experimenting with remix tools and pulled some stuff off the shelf to play around with. Yes it was that same old collection of fragments that had gone into the Warners demo some thirty years earlier.
It proved to be a great amusement to The Residents and soon we all got a surprise from Cryptic Corporation, WB:RMX. I doubt that they think that they have finally finished that project they started so long ago, but I'm sure they think they have many new fragments to work with now.
The album first asks permission to "let me take you down" and then they lead you on a veritable trip through a wonderland of psychedelia. Suggested listening is track 2, Baby Skeletons and Dogs, where they twist two benign images, dogs with bones and babies into one horrific image. This is solid '70's fare for The Residents who dug deeply into surrealism. The new remix is crisp and almost rocks. Also a standout track is their take on Dylan's Maggie's Farm (track 8) which will have you tapping your toes instantly as it slowly degrades and eventually falls into thoughtful chaos. The other tracks never disappoint because they frantically behave like a precocious child needing attention. Then suddenly, the chillout (track 13) Love Theme from a Major Motion Picture assures you that all is okay. This tune has already been licensed for a Korean compilation as it manages to be both old time nostalgic and upbeat modern at the same time.
It is not an easy listening album. It is often like having boulders dropped on your head from a wheelbarrow. Good thing that Residents fans are all masochists. In general, we are lucky that the group still hasn't finished this demo because it means we might get more versions in the future like some wacky Santa Dog series.
Your assignment: Give WB:RMX a spin on headphones. I guarantee it will impress the ears.
- Big Brother, BOG, 2008
Release History
See also
External links and references